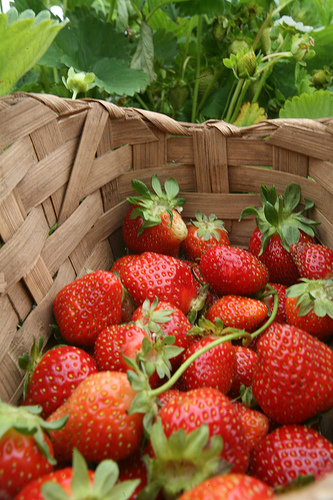 There's nothing quite like the rush of sweet juice that comes from the first bite of a freshly picked fruit or the heightened flavor of a vegetable straight from the farm. Oklahoma has plenty of places to make memories and get your fill of fresh produce including u-pick berry farms and farmers markets around the state. Take advantage of food at its ripest and stock up on your favorite mouthwatering berries and more at the top u-pick farms and farmers markets we've outlined here.
Top Farmers Markets
OSU-OKC Farmers Market – Oklahoma City
Find a wide variety of treasures at the OSU-OKC Farmers Market right in the heart of Oklahoma City. If you're on the hunt for fresh produce, then you're in luck - over 30 vendors pack this farmers market consistently. Pick up everything from tomatoes to peaches as well as Oklahoma made cheeses, organic beef available on the first Saturday of the month, home goods such as herbal soap and hand-crafted baskets, fresh baked bread and certified organic eggs.
Cherry Street Farmers Market – Tulsa
Celebrate everything made and grown in Oklahoma at the Cherry Street Farmers Market, Tulsa's oldest market for fresh produce. With all Cherry Street Farmers Market offers, you can make everything from a delicious spinach and pecan salad to bacon-wrapped lamb burgers with what you find. Don't forget to pick up a jar of honey, a few nursery plants for your house and some artisan bakery products while you're in their festival-like atmosphere.
Edmond Farmers Market – Edmond
Downtown Edmond becomes the place to be during the Edmond Farmers Market, held twice a week from May to October. With rows upon rows of green beans, onions, potatoes, squash, corn, fresh cut flowers and much more, you won't know where to begin. Chances are you'll walk away with a few bags full of one-of-a-kind products you can't pass up including wines, pastas, specialty teas, peaches and even some Oklahoma made treats for your canine friend.
Owasso Farmers' Market – Owasso
The Owasso Farmers' Market is all about healthy living, locally grown food and bringing the community together. Come be a part of the town's farmers market and hear some great local musicians while picking up natural meats, herbs, cabbage, zucchini, seasonal berries and handcrafted jewelry. Look for certified organic growers selling the freshest products to have a taste of Oklahoma agriculture at its best.
Stillwater Farmers' Market – Stillwater
You can be sure your loot from the Stillwater Farmers' Market in Strickland Park is locally grown because the market requires that all vendors grow their products in neighboring counties. The market, which began in Stillwater in 1986, is now a year round source of food and a wide variety of products. Snack on some glazed pecans while you browse through English peas, sunflower sprouts, radishes, roasted chiles and fresh eggs.
See our complete list of farmers markets across the state for more options.
Top U-Pick Farms
Endicott Farms – Mounds
South of Tulsa in the small town of Mounds, the Endicott family owns Endicott Farms. Head out on their perfectly spaced and well-maintained fields of blueberries and blackberries that make for beautiful scenery. With juicy blueberries available from mid to late June and blackberries from late June to early July, you'll be able to make a unique blueberry pie or blackberry cobbler from the stash of nearly a dozen varieties you collect. Endicott Farms also has seasonal pecans perfect for a nutty topping.
Thunderbird Berry Farm – Broken Arrow
Thunderbird Berry Farm in Broken Arrow is open from May through August offering a plethora of different types of produce ripe for the picking. Get your hands on some asparagus in April, sweet strawberries in May, plump blueberries in June and tart blackberries in July. Thunderbird Berry Farm is open Tuesday, Thursday and Saturday morning, but feel free to stop by any other day as long as you have an appointment first.
Maple Creek Berry Farm – Poteau
The Poteau Scenic Bypass and Pleasant Valley Road make for a peaceful drive along country roads to Maple Creek Berry Farm in the small town of Poteau. Explore over two acres of blueberries that have been pristinely maintained since their debut in 2002. With over 2,000 blueberry plants to harvest, take a container provided by Maple Creek and fill up on different varieties of the juicy fruit by the quart on Tuesday evenings and Saturday mornings throughout the growing season.
Wild Things Farm – Pocola
For a full farm and u-pick experience, take a trip away from the city and into the country by visiting Wild Things Farm in Pocola. Over the spring growing season, Wild Things offers delicious, huge u-pick strawberries. Don't miss out on sinking your teeth into this ripe delicacy straight off the vine and the chance to pick up other fruit and vegetables including blackberries, blueberries, asparagus, cucumbers, herbs, eggplants, melons, squash, tomatoes and sweet corn.
Peach Crest Farm – Stratford
Make an appointment for a day of agricultural fun at Peach Crest Farm in Stratford. Throughout the year, Peach Crest Farm harvests apples, cantaloupes, watermelons, onions, okra, arugula, squash, tomatoes and much more. Their vegetables and fruits are u-pick if you call ahead, and make sure to check out the main attraction - 15 different varieties of peaches from their 9,000 tree orchard. Try a colorful, fresh peach that tastes even better picked from the tree by your own two hands.
U-Pick Tips & Tricks:
Here are some tips and tricks for getting the most out of your u-pick experience in Oklahoma.
Keep cool and arrive early.
Many u-pick farms have early hours, and it's best to get out when the Oklahoma sun is greeting you instead of at its peak in the middle of the day. The berries and fruit are freshest then, and you'll also get first dibs for being an early bird.
Don't forget your containers.
Bring a shallow container for picking so the weight of the berries on top won't crush the ones on the bottom. Some places provide picking containers and take home bags, so call ahead to double check. If you're driving quite a ways to get to a farm, a cooler will help your produce stay at its freshest on the ride home.
Come prepared.
The right attire is essential to remaining comfortable while picking berries. Don't forget to wear long sleeves, pants and a hat. Bug spray and sunscreen are also good ideas as well as gardening gloves. Document your trip with a few snap shots on your digital camera too. Expert tip: Stretch out your back, legs and arms before picking to keep from cramping up while bending over.
Have a plan for your produce.
Read up on canning, making jam, freezing techniques or recipes for the produce you're going to pick in order to get the most out of your produce while it's at its peak.
Other general rules.
Follow the farms' rules on where to pick, how much to pick and when. If u-pick is by appointment, be sure to call ahead. Most importantly, if you need help or have questions don't be shy. The owners will be able to answer all of your questions on ripeness, growing seasons and so much more.