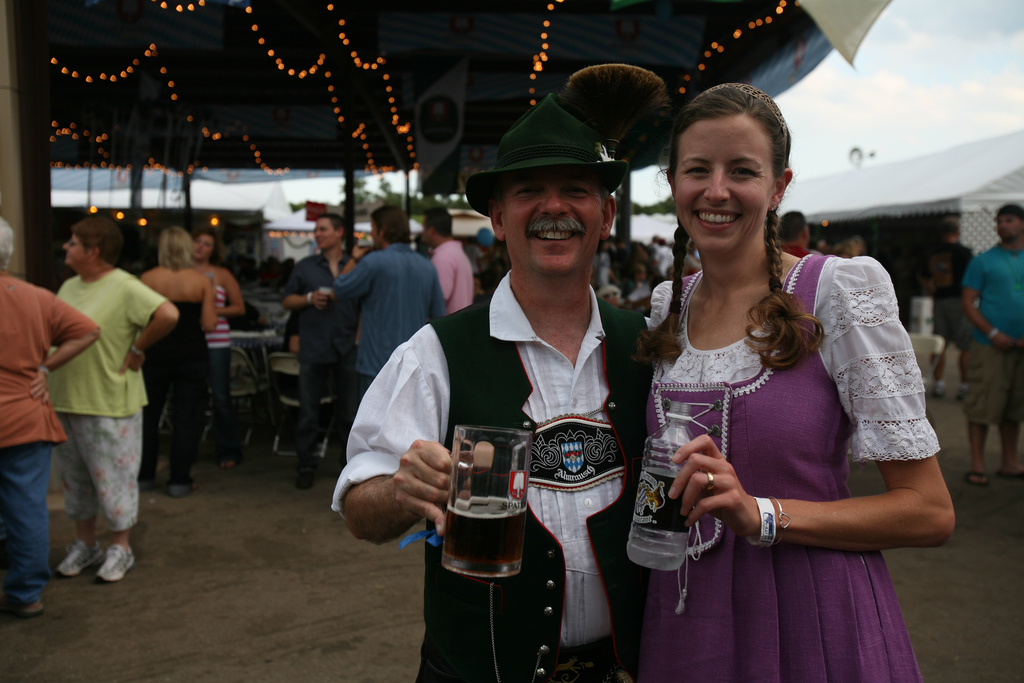 When I came to Oklahoma as an exchange student from Germany, I thought I would get homesick. As it turns out, the Germans have a great history in Oklahoma that dates all the way back to the land runs of the late 1800s.
As a German, I find the German-American cultural connections to be very real and interesting. The history of Germans in Oklahoma began with the Unassigned Land Run in April 1889, although some Germans had settled in both Oklahoma Territory and Indian Territory in the early 1870s.
Germans who lived in Indian Territory were typically working for either the railroads or one of the mining companies. In 1892, Dr. Paul Friedman, a German immigrant, founded a small town in Kingfisher County and named it after the North German city Kiel. There are plenty of stories surrounding the name but this is the most widely accepted story on how the city got its name.
During World War I, it was not advantageous to be German, so a group of citizens decided to rename the town Loyal, Oklahoma. By doing this, the citizens wanted to show their loyalty to the United States and particularly to Oklahoma. With its historic homes and post office, Kingfisher County is still a great place to visit.
Over the years, the historic post office has been renovated and is now home to the Briscoe Oil Company. Kingfisher also has many beautiful historic homes including the home of Mrs. Bowman, who was the founder of the Oklahoma Historical Society.
El Reno is another point of interest where Germans played a role in Oklahoma's history. During World War II, a significant section of Fort Reno served as an internment work camp for German prisoners of war.
The Fort Reno POW Camp was established in 1943, and the first German POWs arrived in July of that year. The number of German prisoners varied due to transfers from other camps, but it was reported to be around 1,335. Most of the prisoners were either working as farm laborers or at Tinker Air Field or the Douglas Modification Plant in Oklahoma City.
There are 62 German soldiers buried at the Fort Reno POW Cemetery, and every November there is a German Memorial Day (Volkstrauertag). The service, which visitors can attend, is held at the Fort Reno Chapel. Guided tours are available year round, and several exhibits and displays are available for viewing.
Another town with a German connection is in Washita County, just a couple miles south of Weatherford. Originally settled by German-Russian Mennonites, this small town used to be called Korn, but due to anti-German sentiment during World War I, the name was cleverly changed to Corn. Visitors are more than welcome to attend a German meal sponsored by the Corn Bible Academy during the German Feast & Auction, held annually in February. If you plan to visit Weatherford and the surrounding area, don't miss the Stafford Air and Space Museum. It has actual and replica space items, which vary from a space suit to the world's largest liquid fueled rocket.
For those of you craving to find out more about German culture, I recommend a trip to any German restaurant – I can assure you it will be worth the drive. There are several German restaurants in Oklahoma, including Royal Bavaria in Moore and Old Germany Restaurant in Choctaw.
Andy Gmeiner, owner of the Royal Bavaria, said that it was his goal "to make the restaurant as authentic as possible so that Oklahomans can experience Germany in a 100 percent way."
Typical Bavarian dishes are on the menu (Speisekarte) including Bavarian pork roast in brown beer gravy, smoked pork loin and a variety of sausages including frankfurter, veal and pork.
On top of this, you'll be able to enjoy the full flavor of the German beer that Gmeiner brews. In Germany, beer is part of the culture, and the so-called Purity Law, which was written in 1516, is well-known. The main difference between German and American beer is the ingredients. According to the Purity Law, a beer should be made only out of yeast, barley, hops and water, and German breweries still follow this law.
After immersing yourself in German culture this spring, be sure to mark your calendar to join a German celebration which takes place in several locations across Oklahoma each fall including Choctaw Oktoberfest, Oktoberfest in Helena, Oktoberfest in Ponca City and Oktoberfest in Vinita. Perhaps the best known Oktoberfest celebration in Oklahoma takes place in Tulsa where 50,000 festivalgoers enjoy delicious German cuisine, sip German brews and immerse themselves in German culture to the non-stop beat of oompa bands at Tulsa Oktoberfest.