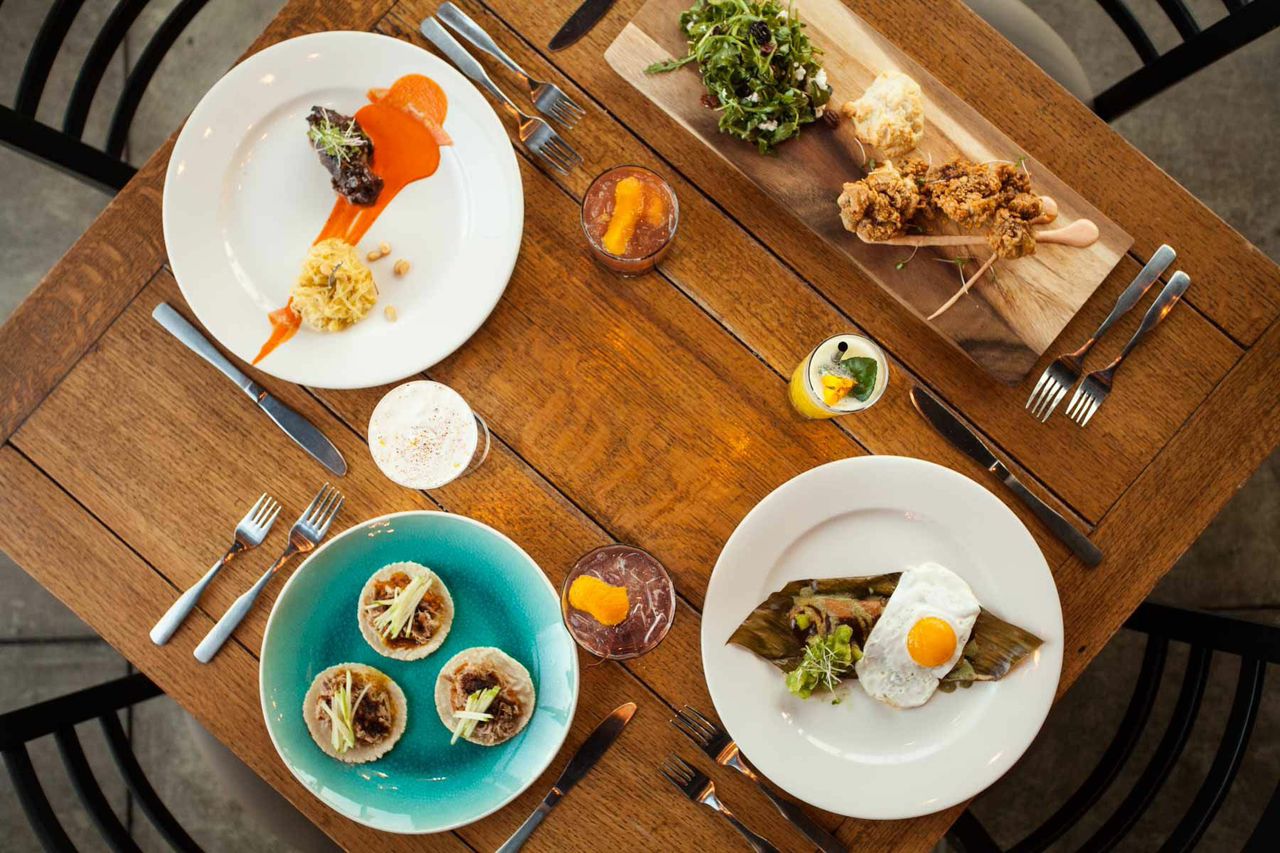 Oklahoma chefs and restaurateurs have found a vibrant connection between the local farm and the restaurant table, and these six dining spots from across Oklahoma have shown that locally sourcing seasonal ingredients is not only a viable option, but an exciting and delicious one too.
Ludivine - Oklahoma City
Chefs Jonathan Stranger and Russ Johnson have made Oklahoma City's Ludivine into a world-class restaurant with simple guiding principles: an unpretentious restaurant with a focus on seasonal, locally sourced ingredients. The menu changes day to day according to what's available from nearby farms and ranches. This farm-to-fork concept could not be pulled off without the culinary chops to make it delicious, and Ludivine definitely delivers the goods.
Roasted bone marrow with grain mustard, pan-roasted Wagyu beef and the suckling pig pie are just a few of the popular, superbly executed dishes that have made Ludivine's reputation shine. If you'd like to have drinks with dinner, the bartenders at Ludivine serve up some of the best cocktails in the city. You can also browse the wine list or sample their variety of premium local, craft beers.
Tallgrass Prairie Table - Tulsa
The farm-to-table concept is spreading across Oklahoma with exciting and tasty results like at Tallgrass Prairie Table in Tulsa. Serving modern American cuisine, inspired by both local and global culinary traditions, Tallgrass has formed partnerships with local farms and ranches in order to present a classic yet innovative menu using high-quality, regional ingredients.
The menu at Tallgrass Prairie Table changes with the seasons and includes a spicy version of classic fried chicken, a wood-fire grilled duck breast and "animal of the day" tacos. Salads, soups and desserts are all made from scratch or locally sourced. Conveniently located in the Blue Dome District, Tallgrass is becoming a strong statement for the local and slow food movements in Oklahoma.
The Living Kitchen Farm & Dairy - Depew
The Living Kitchen Farm & Dairy in Depew hosts farm-to-table dinner parties for groups of 15 to 40 people featuring ingredients grown or raised on the farm or other nearby farms. The seasonal menu varies from meal to meal and these dinner parties, held in a charming cabin on the farm grounds, become such a draw, it can be hard to get a reservation at the table. Nonetheless, chefs Lisa Becklund and Linda Ford have proven to be generous hosts and engaged members of the community.
Dinner parties always begin with a tour of the farm, giving diners a firsthand look into what's going into their meal. Many of these dinners focus on a single ingredient at its peak like last year's heirloom garlic dinner, where dishes highlighted different varieties of garlic. The Living Kitchen also presents themed meals like the Red Dirt dinner that focuses on traditional Oklahoma fare or dinners like the pig roast, where a local pig is roasted and incorporated into every dish in innovative ways. At the Living Kitchen you can engage all your senses while getting a refreshing taste of what living off the land truly means.
Red Cup - Oklahoma City
The Red Cup in Oklahoma City has long been a vibrant gathering place for vegetarians, vegans or anyone who enjoys a great cup of coffee. Conveniently located on North Classen with its signature mug propped up just so on the roof, The Red Cup has a relaxed atmosphere with a menu full of unique, daily specials and tried and true favorites. The Red Cup takes being a community café seriously by consistently providing artists, artisans and musicians an outlet for their work and acting as a venue for local events.
While the cuisine at the Red Cup is vegetarian-only there is such a great variety of well-prepared dishes that anyone can find something they love. For breakfast, try the popular breakfast burrito made with scrambled eggs, cheddar cheese, black beans, onions, peppers, sour cream, and salsa and wash it down with a cup of their fair-trade, organic coffee. For lunch or dinner there are fresh vegetable quesadillas, Frito pie with veggie chili or one of the daily specials like mushroom pot pie. Stop by anytime for any of their amazing cakes, muffins or scones, all made from scratch.
The Earth Café & Deli - Norman
At The Earth Café & Deli, healthy, natural food is neither dull nor unimaginative. Using high quality, organic local ingredients (including herbs from their on-premises garden) the folks at this Norman community have created vegetarian and vegan dishes with a wide variety of flavor and texture for over 30 years. The tofu scramble or vegan biscuits with "soysage" gravy make for a satisfying breakfast with a cup of their premium, organic fair-trade coffee, while the popular fruit and vegetable smoothies are the perfect treat for any time of day.
Their award-winning, hearty veggie chili is great for lunch or dinner with a slice of quiche or a salad – just don't forget to top your meal off with a delectable slice of lavender layer cake. The Earth's modest, charming location on Flood Ave near the OU campus has been remodeled to better accommodate the many regulars, so make your way to this town favorite soon.
TS Fork - Tonkawa
In the town of Tonkawa, near Ponca City in northern Oklahoma, TS Fork is building a reputation for its exciting and innovative approach to farm-to-table dining. Focusing on local ingredients and working with area farmers and vendors, chef/owner/operator Jeff Denton and his team provide weekend dining experiences that are unique, expertly crafted and, most importantly, delicious. Most weekends there is a different theme or featured cuisine such as comfort food, seafood or Irish cuisine, and all meals are shared by diners in a "common table" setting.
Seating at the weekly TS Fork meals is available by reservation only and features a prix fixe menu of five courses composed of fresh recipes inspired by locally sourced ingredients. Dishes like crowned lamb, baked sea bass, their specialty deviled eggs and many more are prepared with simplicity and skill. Also, make sure to sample their selection of local wines and beer, which are available at an additional cost. With the ever-changing menu and the focus on quality and seasonal freshness, TS Fork is a place you'll want to return to often.
Packard's New American Kitchen - Oklahoma City
With a strong understanding of seasonal cuisine, Packard's in Oklahoma City features an innovative menu chock-full of locally-sourced dishes. Packard's always provides a diverse array of fresh vegetables from Oklahoma farms, including asparagus, snap peas, honey-glazed carrots and broccoli. For main dishes, the menu focuses on savory main courses also made with local ingredients, like blackened redfish paired with risotto and green onions or pork chops sizzling with jalapeno-cheddar grits, broccoli, bacon jam and pickled onion.
Each time you head in to Packard's New American Kitchen, you're sure to spot new dishes based on local offerings. The list of specials featured on the chalkboard rotates daily, from the soup of the day to the homemade bread and cheese options. Although staples like the green chile Caesar salad are offered year-round, the team at Packard's is always looking for opportunities to highlight the best from Oklahoma's farms.
Elote Café - Tulsa
Dedicated to helping customers navigate the challenges of healthy eating, Elote Café creates mouthwatering Mexican food using only local ingredients. Each element of the cuisine at Elote comes from a local farm or vendor, like Natural Farms, Java Dave's Coffee, Lucy's Tortillas, Thirst Wines and Marshall Brewing Company. Even the meats served come from a Bixby farm where livestock is raised on organic grain, and all menu items feature fresh herbs and spices from local farms.
While Elote Café offers delicious twists on traditional Mexican favorites made with pork, chicken and beef, it also caters to vegan and gluten free diets. Their made-to-order guacamole will satisfy any palate, as will the tortilla soup, prepared with locally-grown tomatoes and onions. Meat lovers, on the other hand, are sure to be satisfied with culinary creations like puffy tacos, stuffed full with all-natural beef, pork or chicken. From the sweet corn tamales with cayenne honey sauce to the handmade margaritas, every meal is an adventure at Elote Café.