Oklahoma Skydiving Center
Oklahoma Skydiving Center
4 W Airport Rd
Cushing Airport
Cushing
,
OK
74023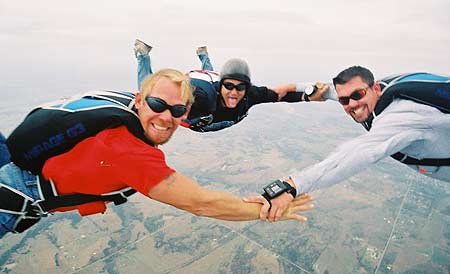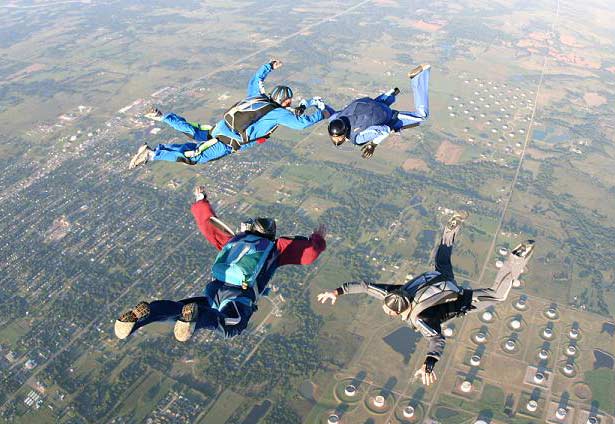 The Oklahoma Skydiving Center in Cushing is Oklahoma's largest and most experienced skydiving school, and is the only skydiving center in the region that skydives from 14,000 feet with a super fast turbine powered Cessna 206. This family-owned and operated skydiving facility is located on the 350-acre Cushing Regional Airport, providing visitors with the equipment, facility, training, methods, staff and unobstructed landing area necessary for a student-friendly environment.
The Oklahoma Skydiving Center uses only USPA rated instructors and training methods, as well as equipment designed and manufactured for student use. All student gear is equipped with square main canopies, square reserve canopies, automatic activation devices, reserve static lines and altimeters. In addition, each student is provided with a private frequency Motorola radio to personally guide them during their canopy flight.
The Oklahoma Skydiving Center uses an innovative mixture of practical exercises, lectures and videos to explain the steps involved in making a skydive. Some of the progressive training available at the center includes simulated systems that teach canopy flight control, harness functions, aircraft procedures and exits. Skydiving skills are discussed, described and practiced.
Two types of jumps are available including accelerated free fall student skydives and tandem skydives.
The accelerated freefall method features an exit from the aircraft at 14,000-ft with two instructors to hold and guide the participant through 60 seconds of freefall. Accelerated freefall training begins with a 5-7 hour ground school, after which participants will make their first skydive.
Tandem jumps are also available. After a short period of instruction, participants will be harnessed to a certified tandem instructor who will assist through a freefall of approximately 60 seconds from an altitude of 14,000-ft and a 5-10 minute canopy ride.
Reservations are required; please call ahead. The minimum age to make a skydive is 18.
Amenities
Facility Amenities:
Campsites, Credit Cards Accepted, Grills, Picnic Area, Restrooms
Group Amenities:
Accommodates Tour Groups, Advance Group Reservations Required, Group Rates Available
Highway Corridors (within 5 mi.):
I-44, Route 66, US-412
Suitable for Ages:
Adults (18+), Children (up to 12), Teens (13-18)
Hours
Sunday:
8:00 am - 9:00 pm
Monday:
3:00 pm - 9:00 pm
Tuesday:
3:00 pm - 9:00 pm
Wednesday:
3:00 pm - 9:00 pm
Thursday:
3:00 pm - 9:00 pm
Friday:
12:00 pm - 9:00 pm
Saturday:
8:00 am - 9:00 pm
Always open Friday-Sunday, appointments are recommended. Open Weekdays by appointment only.
Directions
Located in Hangar 22.