Poteau Balloon Fest
Oct 19, 2018 to Oct 20, 2018
Poteau Balloon Fest
LeFlore County Fairgrounds
Hwy 271 S
Poteau
,
OK
74953
The Poteau Balloon Fest is an annual hot air balloon festival featuring hot air balloons, tethered balloon rides and glows, a ATV/UTV race, arts and crafts booths, games, food, carnival rides and much more. Each evening the balloons will line up for an exciting balloon glow as the hot air balloons perform via burns, flickers and the wave. A wide variety of events will be held in conjunction with the event. The Poteau Balloon Fest is Oklahoma's Longest Running Balloon Festival.
Balloons will be in a special area during non-flight times. Pilots will be explaining the art of ballooning and let the public get a feel of being in a basket and how the burners heat up the balloon causing the balloon to rise. Balloon pilots will also be handing out cards with information about their balloon.
Armbands are good for Friday and Saturday and include the following shows and attractions: Great American Kites, Midgets with Attitude Wrestling, Little Ms & Mr. Balloon Fest, Juggle Whatever performances, pet costume contests and Big Fox Run ATV/ UV Races.
The following rides and attractions will require additional costs and are not included with gate admission: helicopter rides, Mean Machine monster truck rides, tethered balloon rides, pony rides, carnival rides and ring side Midgets with Attitude Wrestling!
Come on out to the LeFlore County Fairgrounds in Poteau, bring a blanket or lawn chair, and enjoy all the fun. All events are weather permitting. If balloons are not able to fly, pilots will be available to answer questions about hot air balloons. They will be monitoring the weather and announcing flight times through out the day. Any and all balloon flights are most likely to occur between the hours of 7-10am and 4-7pm, but exact times may vary.
Amenities
Highway Corridors (within 5 mi.):
US-270, US-412
Projected Attendance:
25,000
Hours
Friday:
12:00 pm - 10:00 pm
Saturday:
9:00 am - 10:00 pm
Deals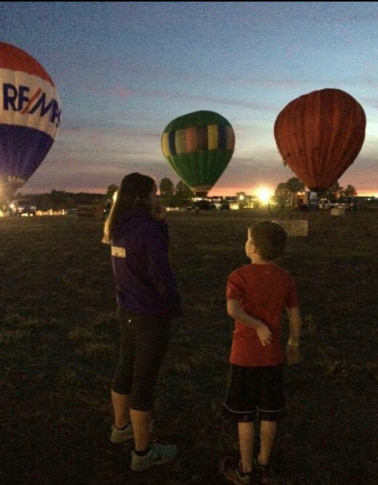 Pre-order family package includes five armbands for $20.
Learn More