Flower Bluff Mansion Steak House
Flower Bluff Mansion Steak House
329 W Muskogee Ave
Sulphur
,
OK
73086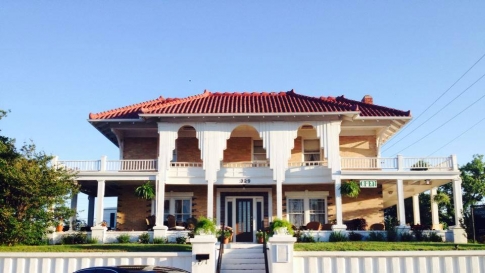 Savor a juicy chopped sirloin with grilled peppers and onions or succulent 6 oz lamb chops at Flower Bluff Mansion Steak House in downtown Sulphur. This newly renovated mansion now serves up a fine dining experience within its historic, architecturally unique walls.
Flower Bluff Mansion, built in 1924 by Sulphur Mayor Jesse Denton Ramsey, played many roles throughout its history before making the switch to a steakhouse. After Ramsey passed away, Flower Bluff Mansion transformed into a second home, a hotel room and a tea room. ​
Come inside this Sulphur mansion today, and sit down for a cooling carafe of cucumber-infused water before perusing the steakhouse menu. Snack on freshly baked bread while considering a grilled chicken Caesar to start the meal off right. Dive into an order of pasta and chicken or Italian sausage covered in Veracruz sauce or bite into a cut of certified Black Angus ribeye.
Ask for a side of signature sauce and chow down on sides of honey glazed carrots, cheese grits, broccoli almandine or roasted potatoes. Sip on a glass of cabernet sauvignon or white zinfandel. Finish out the meal with one of the week's dessert specials.
Amenities
Facility Amenities:
Reservations Suggested, Wine/Beer Only
Hours
Sunday:
11:00 am - 1:00 pm
Wednesday:
5:00 pm - 9:00 pm
Thursday:
5:00 pm - 9:00 pm
Friday:
5:00 pm - 9:00 pm
Saturday:
5:00 pm - 9:00 pm
Directions
Head south on I-35 S to OK-7 E in Davis. Follow OK-7 E 11.8 mi to W Muskogee Ave in Sulphur.