Belle Kitchen OKC
Belle Kitchen OKC
7509 N May Ave
Oklahoma City
,
OK
73116
Jumping off from the simple concept of great donuts and coffee, OKC's Belle Kitchen has been building its reputation one farmer's market and street festival at a time. After over a year of hard work, word-of-mouth and social media exposure, the bakery finally opened its brick-and-mortar headquarters on North May Ave in 2016.
Each scratch-made Belle Kitchen doughnut features five ingredients: eggs, butter, sugar, salt and flour. After letting the dough rise three times, it's then cut by hand, fried and carefully glazed with either standard classics, vanilla bean, chocolate ganache, hibiscus, tangy lemon and maple bacon; or seasonal favorites like pumpkin spice, chocolate mint or pomegranate pistachio. On the savory side, the bakery also offers a variety of breakfast and lunch specials, including poutine, that showcase their house baked focaccia and brioche. Whatever the choice, pair up Belle Kitchen's delicious baked goods with a cup of responsibly sourced, specialty roasted coffee or a tall glass of organic milk.
Always expanding their reach, Belle Kitchen's bakers have perfected the art of hand-crafting macarons, a French pastry that sandwiches buttercream, ganache or jam between two meringue-based cookies. Much like their doughnuts, the macarons feature local ingredients and can be picked up daily from the shop or custom ordered for special events. On top of all the great pastries, Belle Kitchen also features small batch ice cream and sorbets, offered in hand crafted locally sourced or fully customizable flavors.
Amenities
Facility Amenities:
ADA Compliant, Credit Cards Accepted, Vegetarian Options Offered
Group Amenities:
Accommodates Tour Groups, Bus/Motorcoach Parking, Group Rates Available
Highway Corridors (within 5 mi.):
I-44, Route 66
Meals Served:
Breakfast, Brunch, Lunch
Hours
Sunday:
8:00 am - 1:00 pm
Wednesday:
7:30 am - 5:00 pm
Thursday:
7:30 am - 5:00 pm
Friday:
7:30 am - 5:00 pm
Saturday:
7:30 am - 5:00 pm
Deals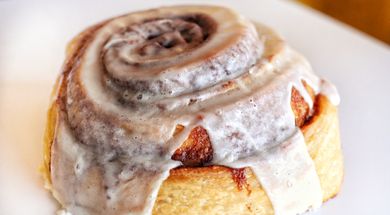 Mention this ad to the staff and receive 10% off....
Learn More