Oklahoma Hall of Fame at the Gaylord-Pickens Museum
Oklahoma Hall of Fame at the Gaylord-Pickens Museum
1400 Classen Dr
Oklahoma City
,
OK
73106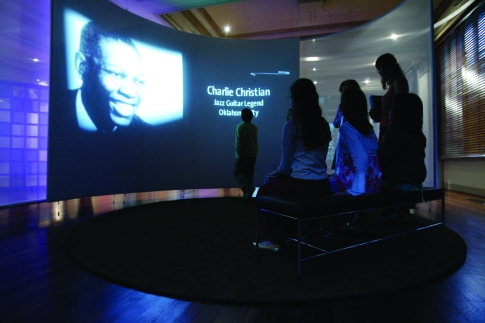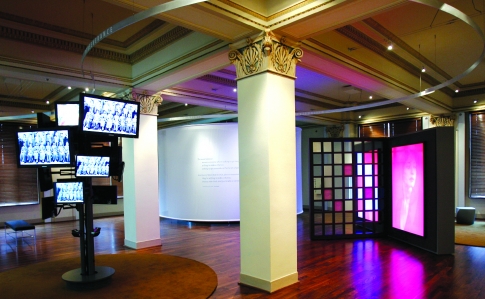 Celebrate over 90 years of telling Oklahoma's story through its people at the Gaylord-Pickens Museum, home of the Oklahoma Hall of Fame. Meet the inspirational Oklahomans who have shaped the history of our state, country and world via interactive exhibits.
Meet the more than 669 accomplished Oklahomans who have received the state's highest honor since 1928 in the Oklahoma Hall of Fame Gallery. Look up Oklahoma Hall of Fame members by name, hometown or industry and try your hand at an Oklahoma trivia game via interactive touch screens.
In the Oklahoma Through Its People Gallery, you'll find video-driven exhibits telling the stories of notable and inspirational Oklahomans focused around the five characteristics of an Oklahoman - perseverance, optimism, pioneer spirit, individualism and generosity. Oklahomans featured here include Reba McEntire, Shannon Lucid, Wiley Post, Will Rogers, The Flaming Lips, Shannon Miller, Mat Hoffman, Maria Tallchief, Ada Fisher, Greg Burns, Charlie Christian and Ralph Ellison among many others.
Become part of Oklahoma history in the ONEOK Tell Your Story exhibit. Share and record stories about your own Oklahoma heritage, and then e-mail your recording to yourself or a loved one as a souvenir. Choose to archive your story at the Oklahoma Hall of Fame for future visitors to see.
Visit the Museum Store to find distinctive Oklahoma gifts, publications on Oklahoma's people and history and unique educational tools.
Amenities
Discounts:
Senior Discount
Facility Amenities:
ADA Compliant, Credit Cards Accepted, Gift Shop, Handicapped Parking, Meeting Space Available
Group Amenities:
Accommodates Tour Groups, Advance Group Reservations Required, Bus/Motorcoach Parking, Complimentary Attraction Passes for Guide/Driver, Group Rates Available
Highway Corridors (within 5 mi.):
I-35, I-40, I-44
Suitable for Ages:
Adults (18+), Children (up to 12), Teens (13-18)
Tour Information:
Customized tours, Group Tours, Self-guided tours
Hours
Tuesday:
9:00 am - 5:00 pm
Wednesday:
9:00 am - 5:00 pm
Thursday:
9:00 am - 5:00 pm
Friday:
9:00 am - 5:00 pm
Saturday:
10:00 am - 5:00 pm
Pricing
Adults: $7
Seniors (62+): $5
Students (6-17): $5
Groups rates available; military discount offered.
While every effort has been made to ensure the accuracy of the pricing listed above, prices are subject to change without notice.
Directions
From I-35, take I-235 W to 23rd St exit. Take Broadway to NW 13th St, turn right. End at NW 13th & Shartel.
Order Related Brochures
Oklahoma Hall of Fame at the Gaylord-Pickens Museum
Oklahoma City
Request
Sign Up for Related Emails
Monthly TravelOK eNewsletter
Sign Up