Johnnie's Grill
Johnnie's Grill
301 S Rock Island Ave
El Reno
,
OK
73036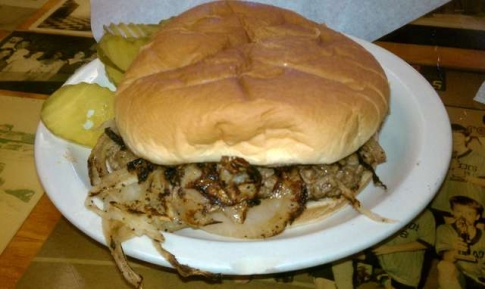 In business since the 1940s, Johnnie's Grill in El Reno features the famous El Reno fried onion burger, a tasty combination of fresh beef patties and ribbons of caramelized onion. Optional toppings include lettuce, tomato, mustard and pickles. Try the Coney Island for a hot dog topped with meaty chili and pickled slaw. The menu at Johnnie's Grill also offers fries, chicken strips and homemade pies. Johnnie's Grill in El Reno also serves a great breakfast. Order all-you-can-eat platters of biscuits and gravy or try the Arkansas sandwich, which includes a pair of pancakes layered with a pair of eggs.
Amenities
Dining Type:
Casual Dining
Facility Amenities:
ADA Compliant
Group Amenities:
Seating Capacity: 85
Highway Corridors (within 5 mi.):
I-40, Route 66, US-270, US-81
Meals Served:
Dinner, Lunch
Hours
Sunday:
11:00 am - 8:00 pm
Monday:
6:00 am - 9:00 pm
Tuesday:
6:00 am - 9:00 pm
Wednesday:
6:00 am - 9:00 pm
Thursday:
6:00 am - 9:00 pm
Friday:
6:00 am - 9:00 pm
Saturday:
6:00 am - 9:00 pm
Directions
Driving west on I-40, take the first El Reno exit onto Hwy 81. From 81, turn left onto Route 66/Rock Island Ave and go through three 4-way stop lights. Grill is located on the right.
Order Related Brochures
Route 66 Brochure
Oklahoma Travel Guide and Map Kit
Destination Dining Guide
Request
Sign Up for Related Emails
Monthly TravelOK eNewsletter
Route 66
Culinary Adventures
Sign Up