Charlie Christian Itinerary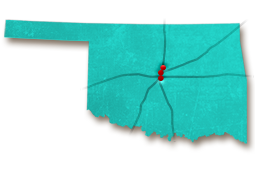 Photo Gallery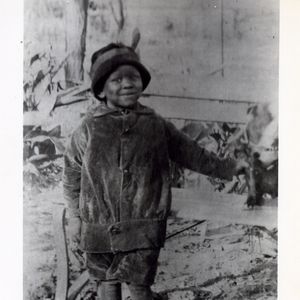 Discography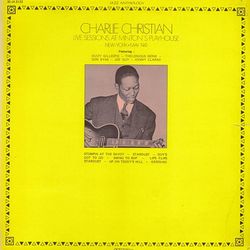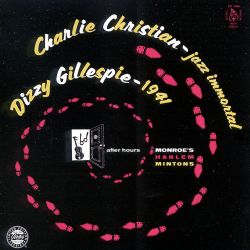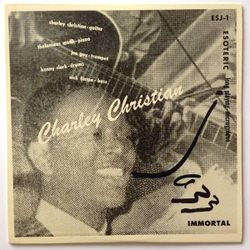 ---
{{ data.name }} Edition
---
Charlie Christian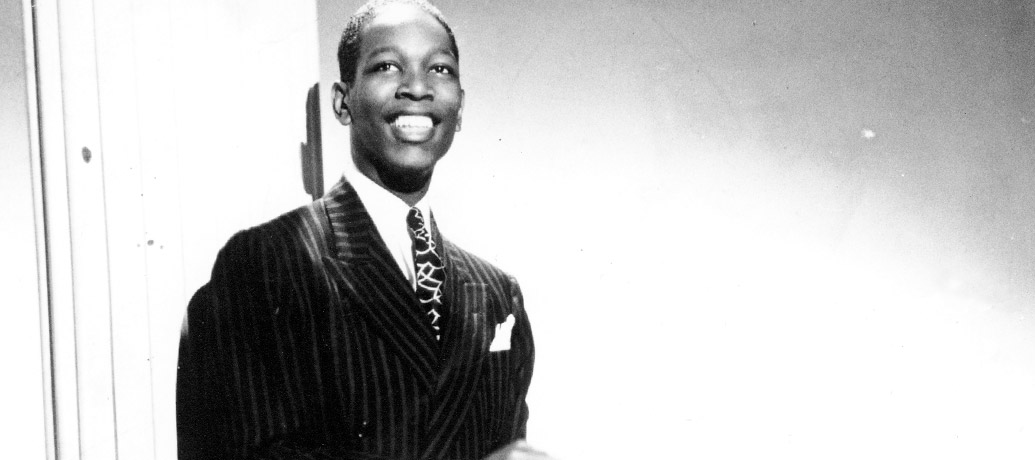 Born: 07-29-1916
Died: 03-02-1942
Charlie Christian, an early pioneer of the electric jazz guitar and "Father of Bebop," was born on July 29, 1916 to parents Clarence and Willie Christian. Although Charlie Christian's career was tragically cut short by his untimely death in 1942, he forever impacted the world of music. Christian is credited with bringing the guitar out of the rhythm section and making it a solo instrument during the era of jazz. No longer was the guitar seen as merely a back-up to the saxophone, trumpet and clarinet, widely accepted as the era's powerhouse instruments. Charlie brought the same musical expressiveness to solo guitar work, setting the stage for the guitar's elevated presence in genres such as Western swing, country, rockabilly and rock and roll.
Christian was raised in a musically talented family that moved from Texas to Oklahoma City in 1918 when young Charlie was only two years old. By age 10, Charlie had learned to play the trumpet, following in the footsteps of his father and older brothers, who had already mastered the instrument. At age 12, the young musician switched his focus from the trumpet to the guitar, fashioning his own crudely made guitars out of discarded cigar boxes and learning how to strum a beat on them.
Christian attended Douglass High School in Oklahoma City and cut his musical teeth in Deep Deuce, an African American neighborhood that centered around Northeast 2nd Street in downtown. Deep Deuce became a hotbed for jazz and welcomed popular musicians such as Count Basie, Sarah Vaughan, Nat King Cole and Duke Ellington during its heyday.
Charlie bought his first electric guitar, a Gibson ES-150 – an instrument that would forever change his musical career and, because of his mastery of it, the future of music itself.
In 1930, when Charlie was only 14 years old, he landed his first gig as a guitarist, playing acoustic guitar solos for songs such as "Sweet Georgia Brown," "Tea for Two," and "Rose Room" during a performance by the Don Redman Orchestra at Honey Murphy's Club in Oklahoma City. Charlie began making the rounds within Deep Deuce's nightclub scene, then-known as the hottest jazz and blues district in the region, while studying guitar and learning musical theory with his boyhood friend T-Bone Walker under the watchful eye of Ralph "Big-Foot Chuck" Hamilton.
In 1934, Christian began performing as a bassist for the Alphonso Trent Band. The group toured regionally with stops in Kansas City, Dallas, Little Rock and Tulsa, among others. He spent the next few years touring with The Jolly Jugglers, Anna Mae Winburn Orchestra and the Jeter-Pillars Orchestra.
In 1937, Christian discovered the electric guitar when he met Count Basie's guitarist Eddie Durham while playing a show back in Oklahoma City. Eddie, who is credited with having recorded one of the first amplified guitar solos, began giving the young Charlie pointers on how to master the instrument. "I never saw anyone learn so fast, nor have I seen anyone rise to the top so quickly," Durham later remarked. Soon afterward, Charlie bought his first electric guitar, a Gibson ES-150 – an instrument that would forever change his musical career and, because of his mastery of it, the future of music itself.
While working at The Dome in Bismarck, North Dakota, Christian met jazz guitarist Mary Osborne who heard him play the electric guitar. Osborne later recalled that it was "the most startling thing" she ever heard, a sound akin to that of a "garbled saxophone." Charlie had successfully changed the electric guitar from a rhythm instrument into a solo presence in the orchestra while pioneering a single-string technique later emulated by the likes of B.B. King and Chuck Berry.
"I never saw anyone learn so fast, nor have I seen anyone rise to the top so quickly."
John Hammond, Benny Goodman's brother-in-law, "discovered" Christian in 1939, an event that led to Charlie playing with the Goodman Sextet and, on occasion, with the full Benny Goodman Orchestra. During this time, Christian recorded extensively with the Goodman Sextet, Septet and Orchestra, as well as the Lionel Hampton Orchestra, participating in the historic Carnegie Hall jazz concert, Spirituals to Swing. Christian's stirring performances on pieces such as "Air Mail Special," "Honeysuckle Rose," and the epic "Solo Flight" officially announced the arrival of the modern solo jazz guitar. Charlie stood as one of the biggest names in the big band era.
While on tour in the summer of 1941, Charlie Christian began showing severe signs of tuberculosis. He died on March 2, 1942 at the age of 25. The musical legacy of Charlie Christian is indisputable and his influence has been felt by generations of musicians in a variety of genres. The Charlie Christian International Music Festival has been an annual event in Oklahoma since 1985. The event, which celebrates Christian's influence with jazz, blues and old-school gospel music, is currently held in Lawton.
His hometown of Oklahoma City has also honored Charlie with the naming of Charlie Christian Avenue in downtown and a memorial mosaic of the musician near the home plate entrance of the Chickasaw Bricktown Ballpark. Charlie Christian was posthumously inducted into the Rock and Roll Hall of Fame in 1990.