Rhythm and Routes Oklahoma Music Trail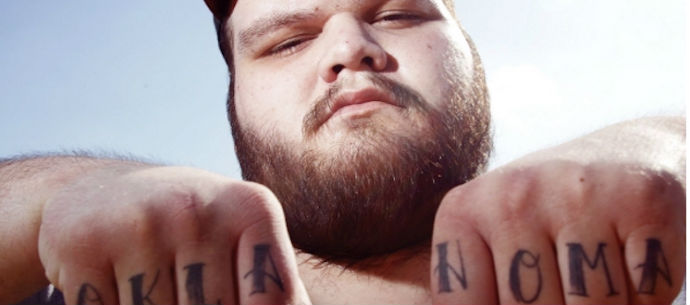 Born: 6 / 22 / 1985
"I stuffed my soul inside a suitcase," "one for the money, four on the floor," or "we knew emptiness like a panhandle road." Ask any John Moreland fan and chances are they'll rattle off these or a handful of the Tulsa songsmith's other best lines. Channeling the DIY spirit of punk rock with a simple but expressive style, John Moreland can quiet the rowdiest bar with his hard-fought ballads, delivered with nothing but an acoustic guitar and his weathered, whiskey-smoked voice.
Shortly after his birth in Longview, TX in 1985, John Moreland's parents, an engineer and school librarian, left East Texas for northern Kentucky. By his own account, John enjoyed a fairly normal childhood before the family's relocation to Tulsa a decade later. After settling in Tulsa, a lonely ten-year-old John had trouble making friends, so he picked up his dad's old Martin guitar and started playing and writing songs.
After teaching himself a few guitar chords, Moreland started dabbling in punk music. "When I was 14 years old, I got some of my first punk rock 7-inches, and my dad had his old turntable in the attic that I got out and got running," Moreland said in an interview, "I've always collected records and punk labels never stopped pressing vinyl, even when everything went to CDs. I just like listening to records and that's always been important to me…"
Inspired by the raw energy, immediacy and grit of those hardcore records, Moreland started playing guitar in the Tulsa and OKC hardcore scene, finally finding a community where he fit in. "It's the same thing that probably gets everybody into punk rock: feeling like a weirdo and trying to figure where you belong. And here's this tribe of weirdos," Moreland told the New York Daily News in an interview about his hardcore youth. Later on, Moreland would pen the words, 'Play your guitar with a chip on your shoulder/We're burning down this town tonight' to chronicle this time of his life on his song, This Town Tonight.
This education in punk rock, and the Do-It-Yourself work ethic that often goes with it, introduced Moreland to the hardscrabble life of a working singer-songwriter. Realizing that no one was going to help, he started booking shows, getting out there and promoting his bands, Widow Song and Thirty Called Arson. "The hardcore scene in Tulsa and OKC in the early 2000's really helped me to see music as more than a hobby." Moreland told the OF+MO, "It was a crash course in DIY work ethic, which taught me how to put out records, and book tours. The experiences I had there have enabled me to have the career I have now, and the characters I met have left their mark on my songs."
Armed with a handful of songs, Moreland formed the Black Gold Band. The group recorded an LP, Endless Oklahoma Sky and hit the road, peeling the paint off every backwater bar from Lawton to Broken Arrow.
By the time Moreland graduated from Tulsa's Union High School in 2004, he'd burnt out on hardcore music. Sitting on the couch with his dad one night, a video of Steve Earle's
Rich Man's War
came on and John was blown away by the raw power of the song. Inspired, Moreland dusted off his dad's record collection and followed the inspirational rabbit trail from Steve Earle to Neil Young, then on to Gillian Welch and Townes van Zandt. Fired up by these influences, Moreland picked up the acoustic and shifted his writing toward a folkier Americana-driven sound. Armed with a handful of songs, Moreland formed the Black Gold Band. The group recorded an LP,
Endless Oklahoma Sky
and hit the road, peeling the paint off every backwater bar from
Lawton
to
Broken Arrow.
"They never left the state, but they been back and forth across it a hundred times," Moreland wrote on the title track. This song earned Moreland and the Black Gold Band a spot on the top 10 finalist list in the Oklahoma State Rock Song competition. Over the next few years, Moreland dropped another record with the Black Gold Band before forming a new band, the Dust Bowl Souls and releasing 2011's defiant LP,
Everything the Hard Way
.
As any struggling band can attest, it's hard to make a living in music. To keep afloat, Moreland left the band and went out on his own, self-releasing a solo record, booking his own shows and crisscrossing the country, playing any gig he could find. His hard work paid off, earning the songwriter a rabid fan base, one dive bar and county fair at a time. "I expected to just play in the corner of the bar and have people not really pay attention, make $100, go home and go to work the next morning, doing something I didn't like," Moreland says. "So, yeah, I didn't really expect to be here. But, then, on the other hand, I did. I feel like I'm good enough to be here. And I've always been confident, even when I probably shouldn't have been. I knew I was an outsider. I didn't have a lot of faith in the music industry to let me in. But I guess they have. To some extent. That's what I hoped for, but I wasn't sure that would be how it worked."
It didn't hurt that a trio of songs, Heaven, Gospel and Your Spell, from his first two solo records were featured on the popular outlaw biker series, Sons of Anarchy. Lyrics like "I wanna drive like hell when I steal the devil's Cadillac" resonated with the show's fanbase and finally provided Moreland with some name recognition outside Oklahoma. These musical appearances also led to a prime spot as the musical guest on The Late Show with Stephen Colbert, where his aching performance of Break my Heart Sweetly won over even more fans. To cap off this surge in popularity, Moreland was nominated for best emerging artist by the Americana Music Association.
With his first two solo records, Moreland really wanted to express the rage, heartbreak and chaos of his youth. His success backfired in an unexpected way and the songwriter started earning a reputation. "When I was writing that record, (In the Throes), I was like, 'I want to wreck people." Moreland told Rolling Stone Country. "It came to a point where I felt like a caricature of a real person…just bumming people out." Worried fans even created an Instagram account, Cheerupjohnmoreland. Moreland paid attention and responded with the more even-keeled, High on Tulsa Heat. With the title track and on songs like Hang Me in the Tulsa County Stars, Cleveland County Stars and Cherokee Moreland explored the albums over-arching theme of coming home, finding belonging in an idea or place like Oklahoma.
"I expected to just play in the corner of the bar and have people not really pay attention, make $100, go home and go to work the next morning, doing something I didn't like," Moreland says. "So, yeah, I didn't really expect to be here."
"It's home." Moreland explained in an interview with
No Depression
, "Sometimes Oklahoma publications want me to sell the state. I never really know what to say. I've lived here since I was ten so I don't know if it's any better or worse than anywhere else, but it's familiar. There's a love/hate thing with where you're from and that's really what 'Tulsa Heat' is about."
While working on his fourth solo album, 2017's Big Bad Luv, Moreland met and fell in love with his soon-to-be wife, Pearl, at the Folk Alliance in Kansas City. Chronicling this new-found happiness and fielding inspiration from genre-bending classics like Lucinda Williams' Car Wheels on a Gravel Road or Wildflowers from Tom Petty, Big Bad Luv is a rock record about finally finding that place where you fit.
"I don't think I'm writing songs that are that much different," Moreland said about this latest record that references Larry Brown's collection, Big Bad Love, "It's always been a positive thing at heart, even if a song isn't sunshine and rainbows. At the very least, my songs have been a way to exorcise negative feelings so that I can move on…I think this record, there's definitely a change in attitude, but it's the same point of view." As the first release through indie powerhouse, 4AD, Big Bad Luv is tracking to become Moreland's biggest release to date. While Moreland is by far the rootsiest artist in 4AD's stable, working alongside acts like The Breeders, Atlas Sound, The National, Daughter, Deerhunter, Tune-Yards and the Pixies feels like a natural fit for this defiantly original Tulsa singer/songwriter.
While he's been pretty busy touring the world with this brand new record, when home, and not working on a new material, Moreland likes to unplug and enjoy the simple pleasures, like a plate of tacos from Tulsa's Tacos Don Francisco or unwinding at The Colony for their Sunday night open-mic.
What video was inspirational in changing Moreland's musical direction?
The Fan Box
Explore fan-submitted
John Moreland
photos, videos & more!