Rhythm and Routes Oklahoma Music Trail
Christian & Gospel Itinerary
Thoughtful and inspiring, Christian music has a long history in Oklahoma. Experience Oklahoma's Christian music influences through local gospel opry events and visit the church where contemporary Christian artist Sandi Patty regularly sings. Also, get inspired by breathtaking statues erected to honor the Christian faith including an impressive cross that towers 160 feet high.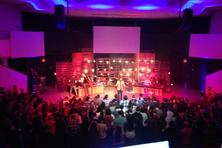 9341 N 129th E Ave
Owasso, OK
Stop 1: Enerje Event Centre
One of Oklahoma's only Christian music venues, the Enerje Event Centre books contemporary worship bands and other Christian music acts.
Show on Map
Show Directions to Next Stop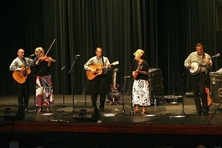 12901 E 86th St N
Owasso, OK
Stop 2: Owasso Gospel Opry
Often combining several genres of music including bluegrass, country and gospel, the Owasso Gospel Opry welcomes talented musicians to the Mary Glass Performing Arts Center.
Show on Map
Show Directions to Next Stop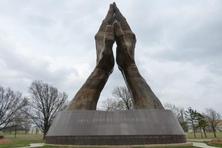 7777 S Lewis Ave
Tulsa, OK
Stop 3: Praying Hands at ORU
Visit the "World's Largest Praying Hands"on display in Tulsa. One of Oral Roberts University's most unique features, this thirty ton bronze sculpture was created by Leonard McMurray. Praying Hands was cast in Mexico before making its way onto campus in the 1980s.
Show on Map
Show Directions to Next Stop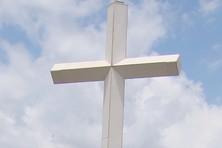 LifeChurch, 4600 E 2nd St
Edmond, OK
Stop 4: Giant Cross
Built in 1996, this giant, white cross cannot be missed by anyone driving along the I-35 corridor in Edmond. People are welcome to stop and take pictures of this impressive piece of iconography, which measures over 160-feet tall.
Show on Map
Show Directions to Next Stop
14600 N Portland Ave
Oklahoma City, OK
Stop 5: Crossings Community Church
Award-winning Christian artist Sandi Patty often attends services and sings at Crossings Community Church. Any given Sunday you may find Sandi Patty showing why she was named "The Voice" of contemporary Christian music at this Oklahoma City haven.
Show on Map
Show Directions to Next Stop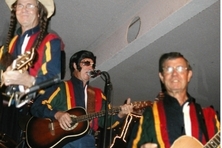 16505 Hwy 9E
Eufaula, OK
Stop 6: Plumb Theatre & Longtown Opry
On Friday nights, the Longtown Opry takes to the stage and performs a set of strictly gospel music at this venue near Lake Eufaula.
Show on Map
Show Directions to Next Stop
Christian & Gospel Festivals in Oklahoma