Photo Gallery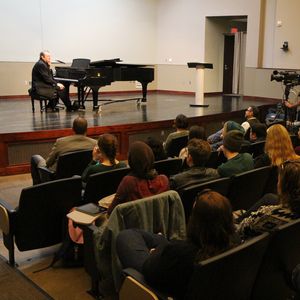 ---
{{ data.name }} Edition
---
ACM@UCO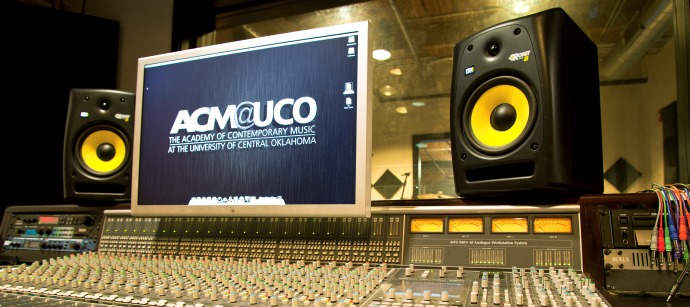 Opened: 2009
The Academy of Contemporary Music at the University of Central Oklahoma (ACM@UCO) is unlike any other music program in the United States. Located at 25 South Oklahoma Avenue in downtown Oklahoma City's Bricktown Entertainment District, this 25,000 square foot facility focuses on providing real world experience to its 350 full-time students.
"This simply will be the most prestigious and coolest place in the United States for the serious music student," said former UCO President Roger Webb. "That's a bold statement, but it's true."
Each student is immersed in auditions, performances and networking opportunities in order to earn degrees in Music Performance, Music Business and Music Production. Students come from far and wide to fulfill their music education from music industry professionals, plus everyone from The Who's Roger Daltrey, Ben Folds and Jackson Browne have participated in the Masterclass Series by giving lectures and performances to ACM@UCO students. In addition, the college's faculty and staff all come from music and business backgrounds.
"I am very impressed with your college, it's fabulous ... I think it's wonderful and I think you're all extremely fortunate to have this ... whatever you're doing in music in your life just make sure you just always enjoy it, it's wonderful." - Roger Daltrey, The Who.
The only music program of its kind in the nation, ACM@UCO was modeled after the original ACM located in Guildford, UK. In addition to its regular curriculum, ACM@UCO also operates the Performance Lab where both up-and-coming musicians and well known acts perform on a regular basis. The lab, which is also located in downtown Oklahoma City, has seating for 200 or standing room for 500. Past artists who have played at the Performance Lab include Steven Drozd of The Flaming Lips, as well as Dr. Dog, Ty Segall, Ben Taylor, Okkervil River and Karla Bonoff.
ACM@UCO opened its doors in August 2009 to 160 students on just one floor of the historic Oklahoma Hardware Building, which was listed on the National Register of Historic Places in 1983. After just one year, enrollment doubled and the school grew into the second and third floor as well. Today, the school fills four floors of the building in addition to the Performance Lab.
"The ACM@UCO is combining the finest of a 'commercial' arts education with the atmosphere of a downtown entertainment district. There is no better home in Oklahoma City for the ACM@UCO," said ACM@UCO CEO Scott Booker.
With its focus on "real world" experience in contemporary music, it's no wonder that the unique college has received positive attention from members across the music industry.
"I love it! I love this school…I can't believe it exists, you know, you guys are really lucky," said Livia Tortella, Co-President/COO Warner Bros. Records.