Alabaster Caverns State Park
! Alabaster Caverns State Park Winterization Notice
Alabaster Caverns State Park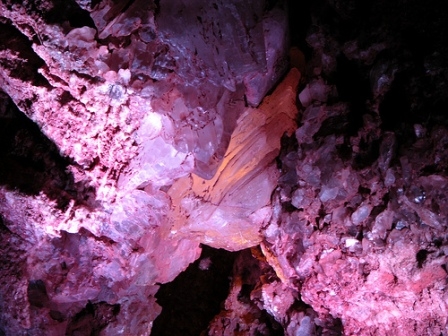 Alabaster Caverns State Park
217036 SH 50A
Freedom
,
OK
73842
Park Office:
580-621-3381
The highlight of the 200-acre Alabaster Caverns State Park is the cavern formed of alabaster, a rare form of gypsum, making it the largest natural gypsum cave in the world that is open to the public and the only gypsum show cave in the United States. Daily guided tours of Alabaster Cavern leave promptly on the hour from 9am-4pm. For safety reasons, a maximum of 40 visitors are allowed on each tour. A fee is charged for the tour.
The cavern tour includes interpretation by a guide and a well-lit path. Group tour rates are available for school and youth groups only and only after a reservation has been made and a confirmation number been issued. Group reservations are required at least two weeks in advance by calling the park office. NOTE: Tour reservations are recommended during holiday weekends and during local events.
The park also features 11 RV sites, which can be reserved online, and approximately 12 tent sites that are available on a first come, first serve basis. Hiking trails, picnic areas, group shelters with electricity, grills, water and a volleyball court are available at the park. Wild caving is a unique adventure also available at the park.
Don't forget to stop by the park's gift shop where you'll find a wide variety of souvenirs including gift items related to nature, the cavern and the resident bat population.
***NOTICE*** The cavern tour involves a strenuous walk of approximately 3/4 mile, during which visitors will climb or go down a total of 330 stair steps. Due to these natural features and conditions, the cave is always cool and damp. The tour path is, at places, narrow, wet, uneven or at a steep incline. The tour takes about 45 minutes to complete. Due to the features of the cave described above, the walking tour is not recommended for those with mobility or respiratory problems, heart conditions or claustrophobia. In order to serve our Cavern guests more efficiently and in a timely manner, cameras, cellphones, flashlights and baby strollers are not allowed on our regular Cavern tours. (Photographic tours are available for our guests that are interested)
Wild caving is a sport better known as spelunking. Alabaster Caverns is home to four caves that are kept especially for that particular activity. The caves range in length from 550 feet to 1,600-ft. Permits may be obtained at park office. No permits shall be issued between October 1 and March 31 for protection of hibernating bats. A small fee per person applies. Wild caving is only permitted between the hours of 8am and 3pm. Please contact the park office for an equipment list as well as rules and regulations.
***NOTICE*** Due to winterization at Alabaster Caverns State Park, the lower campground will be closed and gated from October 31, 2018 through April 1, 2019.
The upper campground RV camping and bathroom facilities will remain open and available. Oklahoma State Parks are open year round, although certain areas are temporarily closed for the winter season to prevent damage to structures during inclement weather.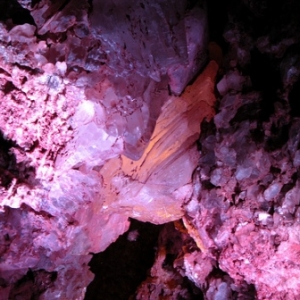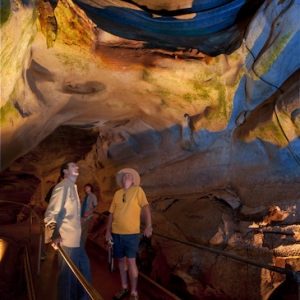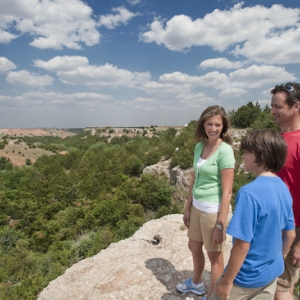 Activities
Pricing
NO PERSONAL CHECKS
Guided Tours of the Cavern:
Ages 5 & under: Free, but do require a ticket.
Ages 6 to 12: $7
Ages 13 to 61: $10
Ages 62 & over: $8
Active Duty Military (w/ current military ID): $8
Wild Caving (April 1-September 30): $8/person. (Special equipment is required)
Tent sites: $14
RV sites with electric & water hookups: $22
Senior Discounts for Campsites:
The senior discount is currently $2 off the daily published rate for designated standard RV and tent campsites. Utility fees are not discounted.
Total disability discount is currently 50% of the base rate for designated standard RV and tent campsites. Utility and premium campsite fees are not discounted.
Senior discounts are also offered on cave tours and other recreational features.
For more information on senior and disabled discounts, please click 'Senior Citizen & Physically Challenged Visitor Opportunities' under the Maps & Resources tab located above.
While every effort has been made to ensure the accuracy of the pricing listed above, prices are subject to change without notice.
Amenities