Lake Murray State Park
! Lake Murray State Park Winterization Notice
Lake Murray State Park
Lake Murray Lodge and Cabins, Lake Murray Golf Course & Blue Heron Restaurant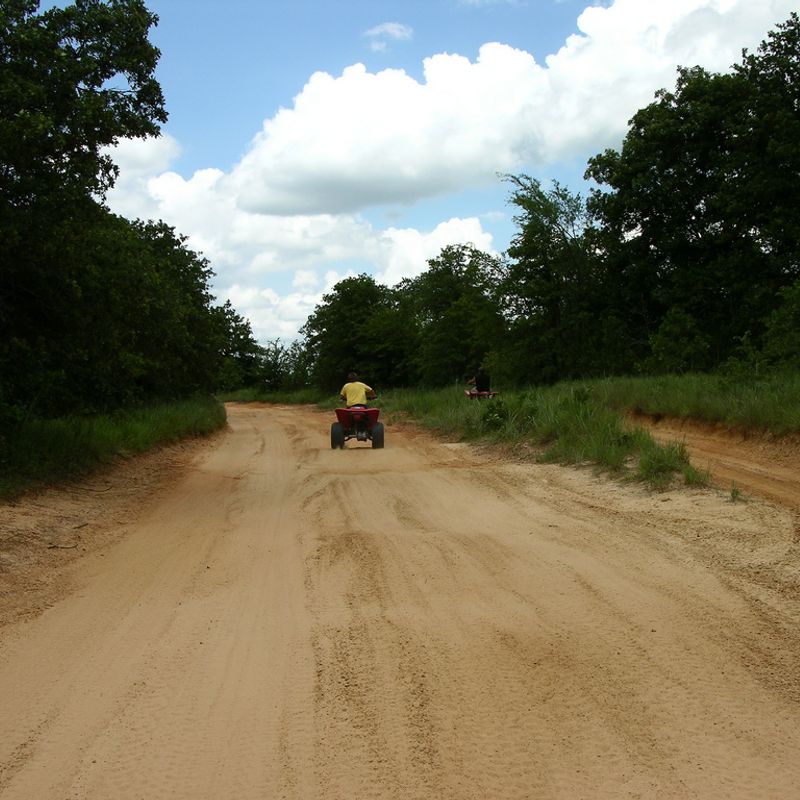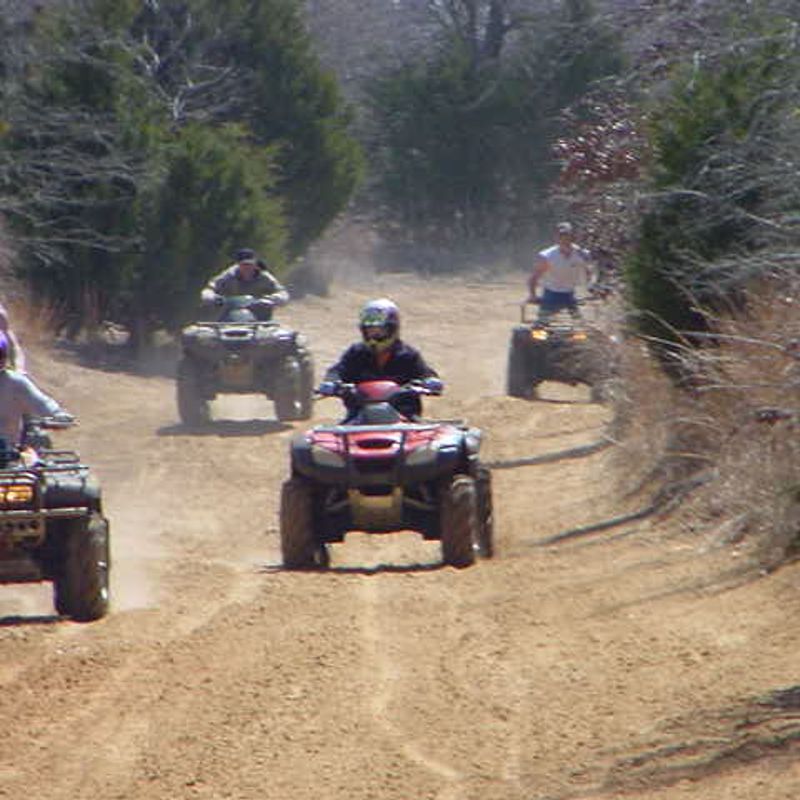 Lake Murray State Park
Golf Course:
2673 Lodge Rd
Park Office:
13528 Scenic Hwy 77
Ardmore
,
OK
73401
Park Office:
580-223-4044
Toll-Free Office:
800-257-0322
Golf Course:
580-223-6613
Lake Murray State Park is Oklahoma's first and largest state park consisting of 12,500 acres around beautiful Lake Murray. The park's diverse terrain, exceptional trails and historic sites make Lake Murray State Park a favorite destination among outdoor, water sport and ATV riding enthusiasts. Encompassing acres of forested, rolling hills in southern Oklahoma, Lake Murray State Park is a prime destination for outdoor activities.
Nine RV campgrounds with 329 RV sites and 500 tent sites are located throughout Lake Murray State Park with full hookups, restrooms and showers. Some RV sites within the park are pull-through and six of the nine campgrounds are open 24 hours a day, with three gated (Elephant Rock, Cedar Cove and Tipps Point). If not camping, these campgrounds require a small day-use fee. Other campgrounds include Duke's Forest, ATV campground, Martin's Landing, Rock Tower, Marietta Landing and Buzzard's Roost. All offer a variety of RV sites, as well as tent sites. View a map of Lake Murray State Park campgrounds. Three seasonal group camps are also located within the park.
For a more secluded experience, book one of the park's 56 cabins. These state park cabins feature everything from cozy cottages for two up to large family-size cabins; some feature convenient kitchenettes. For a small fee, pets are allowed in select cabins. A number of the cabins are also historic structures built in the 1930s by the Civilian Conservation Corps. Reserve state park cabins and lodge rooms online, or call either 800-257-0322 or 580-223-6600.
Another option within the park is Lake Murray Lodge. Choose rooms with one king-size with sofa sleeper, two queen-size beds all with a stunning view of the lake. The 32-room lodge also offers the Blue Heron restaurant and an inviting lobby commons area with a fireplace. Lake Murray Lodge offers a total of seven meeting areas, from the 4,168 sq. ft. Bald Eagle Ballroom to the 353 sq. ft. Board rooms. Banquet catering and audio/visual equipment are also available. An outdoor pool is also available to lodge and cabin guests. No pets are allowed in the lodge.
The Blue Heron Restaurant, located directly off the lobby within Lake Murray Lodge, offers delicious menu selections for breakfast, lunch and dinner seven days a week. Enjoy scenic views of Lake Murray while feasting on classic sandwiches, burgers and traditional breakfast platters.
When it's time to get outside, fishing, boating and a variety of water sports are enjoyed on the 5,728 surface acres of Lake Murray. Lake Murray State Park also offers nearly 1,000 acres of trails for ATVs, motorcycles and dirt bikes. Within the area by state law, helmets are required for those under 18, and riding double is only permitted when the ATV is manufactured for two people. A small ATV riding fee (per passenger) does apply.
The Lake Murray State Park Golf Course is an 18-hole golf course featuring towering oak trees, tree-lined fairways, strategically placed water hazards and a breathtaking waterfall. The course is well-manicured and challenging. Golfers of all ages and abilities are welcomed. A pro shop and practice range are located on-site and individual or group lessons are available. The golf course can be contacted at the phone number above or via email at lakemurray@oklahomagolf.com.
Please note that Lake Murray State Park Golf Course does not sell beer, although golf course customers are welcome to bring their own alcoholic beverages as long as they are not in a glass container. In addition, personal coolers must be of a size that only allows a maximum of 12 cans and should be able to fit discreetly in the baskets provided. For added convenience, the golf course pro-shop has coolers available for you to borrow while you are a guest at the course. Coolers may not be removed and must be returned after use.
***NOTICE*** Due to winterization at Lake Murray State Park, the Cedar Cove, Duke's Forest, Tipp's Point, Marietta Landing, Rock Tower and Martin's Landing campgrounds will be closed and winterized from December 1, 2018 through March 1, 2019.
The Elephant Rock, Buzzards Roost and ATV campgrounds and facilities will remain open all winter. Tent camping is available in Buzzards Roost, the ATV area and Tipps Point. The ATV Riding Area will remain open from 8am through sunset each day.
The Nature Center and Tucker Tower is open 9am-4:30pm daily through the end of October. From November 1-March 1, the open hours are 9am-4:30pm and they are closed on Monday and Tuesday. The Nature Center and Tucker Tower will be closed Thanksgiving Day, Christmas Eve and Christmas Day. Please contact the park office at 580-223-4044 for inclement weather closures.
Oklahoma State Parks are open year round, although certain areas are temporarily closed for the winter season to prevent damage to structures during inclement weather.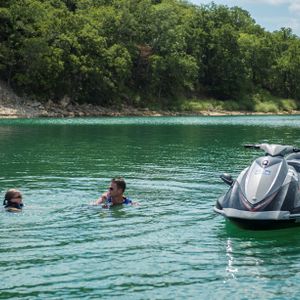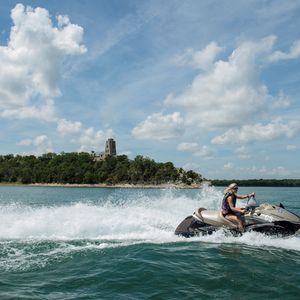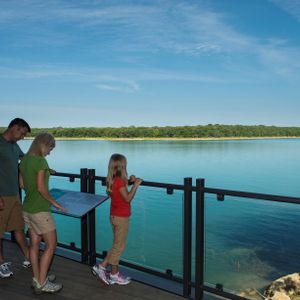 Activities
Pricing
Primitive tent/RV sites: $14/night
Semi-modern RV sites (electric & water): $22-$27/night
Modern RV sites (electric, sewer & water): $25-$30/night
Preferred tent/RV sites (lakeside; improved): $5 extra per night
Cabin Rates Per Night (Dependent on cabin type and season):
Cottage for two: $85-$110
Cottage or villa for four: $105-$130
Cottage suite: $115-$140
Large villa or cabin for six: $155-$180 Cabin for eight: $190-$215
Cabin for 10: $245-$270
Cabin for 12 (Heritage): $255-$280
Cabin for 12 (Colston): $300-$325
Cabin Pet Fee: $15 extra per night per pet (cabins only)
Lodge Rooms: $109-$129/night (no pets allowed)
Group Camps: $300-$350/night
Day-Use Fee (Tipp's Point, Cedar Cove & Elephant Rock): $5 per car or annual entry pass for $50
ATV Rider Fee: $10 per rider/per day
Picnic shelters (Elephant Rock, Tipp's Point, Cisco Road): $75
Picnic shelters (Duke's Forest, Rock Tower, Martin's Landing): $100
Senior Discounts for Cabins & Lodge Rooms:
A discount (currently 15%) may be given to senior and disabled visitors on the established nightly rate per cabin or lodge room Sunday-Thursday nights only, excluding holidays. Some restrictions may apply.
Senior Discounts for Campsites:
The senior discount is currently $2 off the daily published rate for designated standard RV and tent campsites. Utility fees are not discounted.
Total disability discount is currently 50% of the base rate for designated standard RV and tent campsites. Utility and premium campsite fees are not discounted.
Senior discounts are also offered on swimming pool fees and other recreational features. Weekday discounts are offered to senior golfers for specific tee times.
For more information on senior and disabled discounts, please click 'Senior Citizen & Physically Challenged Visitor Opportunities' under the Maps & Resources tab.
While every effort has been made to ensure the accuracy of the pricing listed above, prices are subject to change without notice.
Amenities