Lake Wister State Park
Lake Wister State Park
Lake Wister State Park
25567 US Hwy 270
Wister
,
OK
74966
Park Office:
918-655-7212
Lake Wister State Park, located in southeast Oklahoma, is a gateway to the beautiful Ouachita National Forest. Offering over five camping areas around the scenic 7,300 surface acres of Lake Wister, this state park is a haven of outdoor recreational activity. Visitors to Lake Wister State Park can enjoy a variety of activities including hiking, camping, biking, boating and water skiing. As an added bonus, the park is also equipped with a water spray park, a popular destination for children and adults alike.
Camping facilities at Lake Wister State Park include 15 cabins, 20 tent sites, and a total of 118 modern and semi-modern RV sites. Book a cozy cabin within the park and enjoy lake or park view cabins complete with stone-framed fireplaces. The park's cabins, surrounded by groves of dogwood, wild cherry and northern spruce, offer easy access to hiking trails and Lake Wister's 115 miles of shoreline. One-bedroom and two-bedroom cabins, accommodating four to six guests, feature one to two queen-size beds in each bedroom, linens, sleeper sofas and a 32 inch flat screen TV. Each cabin also comes complete with kitchen, restroom with shower and air conditioning. Two cabins have accessible main and bathroom entrances, and pets are welcome to stay in a select number of cabins at the park for a daily pet fee. Lake Wister State Park also offers a fully-equipped group camp that can accommodate up to 100 visitors and includes a full kitchen and dining hall.
Located near the border of Oklahoma and Arkansas, Lake Wister State Park welcomes wildlife watchers, nature photographers and anyone wishing to escape into the great outdoors. Hunters will enjoy the Wister Wildlife Management Area, located nearby. A waterfowl area is also located within close proximity to the park. With an Oklahoma fishing license, anglers can try their hand at fishing for catfish or bass.
Facilities at the park include comfort stations with showers, picnic tables, group picnic shelters, lighted boat ramps, an unlighted gravel ramp, playgrounds and a swimming beach. Challenge friends and family to a round of miniature golf at the park's miniature golf course. Hiking trails include a self-guided nature trail and a 6.4-mile hiking trail that takes visitors into the surrounding wilderness to view wildlife such as deer, ducks and rabbits. During the winter months, wintering golden and bald eagles can be seen soaring overhead.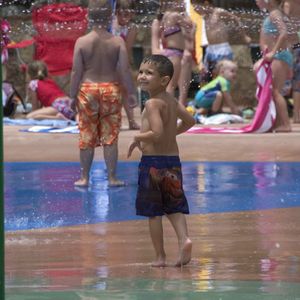 Activities
Canoeing/Rafting/Kayaking
Pricing
Tent sites: $14
RV sites with electric & water hookups: $22
RV sites with electric, water & sewer hookups: $25
Premium sites: Additional $5
Discounts given for camping:
The senior discount is currently $2 off the daily published rate for designated standard RV and tent campsites. Utility fees are not discounted.
Total disability discount is currently 50% of the base rate for designated standard RV and tent campsites. Utility and premium campsite fees are not discounted.
Splash Park:
Children (4 and over): $2 per person
Children (3 and under) and adults supervising only: Free
Summer Rates for Cabins (April 1st - November 30th):
Lakeview 2 BD Cabin: $115 plus tax per night
Lakeview 1 BD Cabin: $85 plus tax per night
Parkview 1 BD Cabin: $75 plus tax per night
Winter Rates for Cabins (December 1st - March 31th):
Lakeview 2 BD Cabin: $105 plus tax per night
Lakeview 1 BD Cabin: $75 plus tax per night
Parkview 1 BD Cabin: $65 plus tax per night
Senior Discounts for Cabins:
A discount (currently 15%) may be given to senior and disabled visitors on the established nightly rate per cabin or lodge room Sunday-Thursday nights only, excluding holidays. Some restrictions may apply.
Senior discounts are also offered on other recreational features.
For more information on senior and disabled discounts, please click 'Senior Citizen & Physically Challenged Visitor Opportunities' under the Maps & Resources tab located above.
While every effort has been made to ensure the accuracy of the pricing listed above, prices are subject to change without notice.
Amenities