Red Rock Canyon State Park
! Red Rock Canyon State Park Winterization Notice
Red Rock Canyon State Park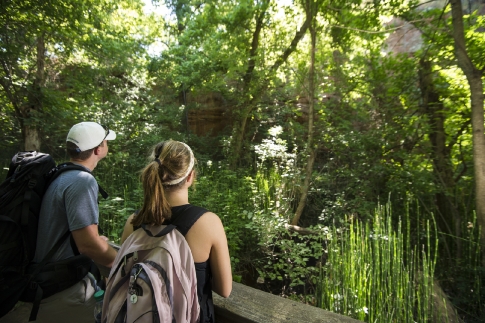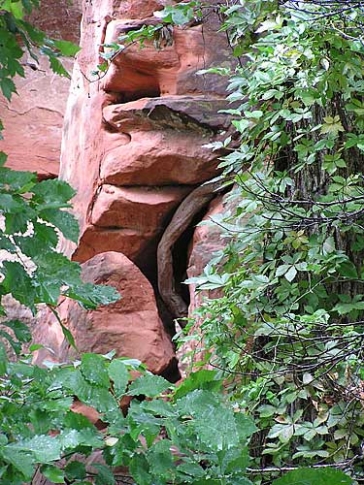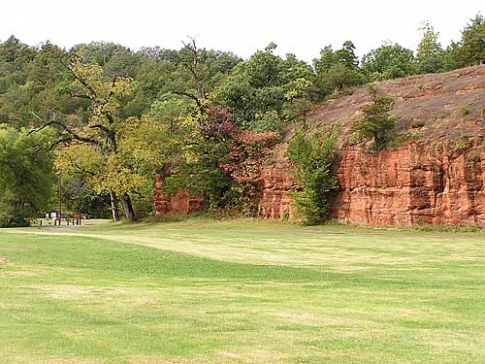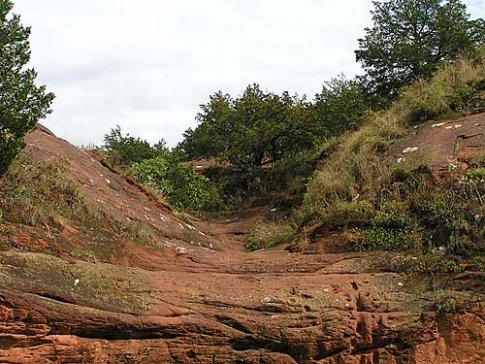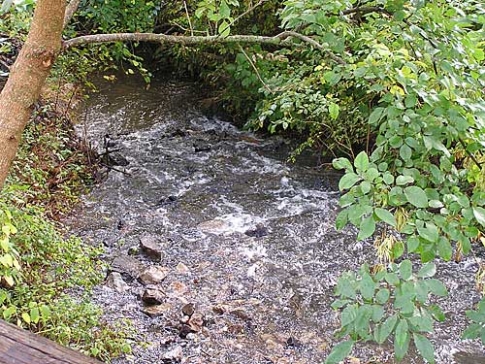 Red Rock Canyon State Park
116 Red Rock Canyon Rd
Hinton
,
OK
73047
Park Office:
405-542-6344
Red Rock Canyon State Park, located in west central Oklahoma near Hinton, is an outdoor adventurer's dream. With the backdrop of red canyon walls, visitors are invited to reconnect with the natural world while exploring the park's trails. Take a serene walk on one of the park's two nature trails, or enjoy a more strenuous hike through the rocky terrain on a hiking trail. Hikers can still see wagon wheel ruts left by settlers traveling westward to California, as the park was once a stop along the historic California Road.
Rappelling down the canyon walls is a favorite activity at Red Rock Canyon State Park. Visitors should bring their own rappelling gear to enjoy a day of challenging descents down the walls. The park does not require gear. For the most adventurous visitors, the highest point of the canyon walls goes up to 80 feet. (Helmets and safety gear are strongly recommended. Rappelling is at your own risk.) Start from this point for spectacular views and thrills on the way down. Visitors will also enjoy trying their luck with rod and reel at the fishing pond, and the on-site playground is an instant hit with kids.
Visitors to Red Rock Canyon State Park in the fall will get a special treat. In addition to the always beautiful scenery, from mid-October through the first part of November the foliage in the park puts on a show. The Caddo maple tree, which is native to the area, is especially stunning, producing beautiful shades of red, orange and yellow.
A day trip to Red Rock Canyon State Park can be fun, but an overnight stay is even better. Come stay at the state park and watch the colors of the canyon change as the sun rises and sets. RV sites, tent sites and picnic areas are available in the canyon year-round. Three RV sites with water, electric and sewer hookups are available, as well as 44 sites with water and electric hookups and 26 primitive sites. Due to the steep and winding hill leading to the park's entrance, RVs shorter than 40 feet are recommended.
During the summer, the park operates a swimming pool and bathhouse, which are great ways to cool off after rock climbing or hiking.
***NOTICE*** Due to winterization at Red Rock Canyon State Park, the day-use comfort station will be closed from November 1, 2018 through April 1, 2019. In addition, two of the three comfort stations within Canyon campground will be closed. The Canyon campground, California Road campground and comfort station and Walnut Grove campground will remain open.
Please note: the park will close when ice/snow covers the steep entrance/exit road.
Oklahoma State Parks are open year round, although certain areas are temporarily closed for the winter season to prevent damage to structures during inclement weather.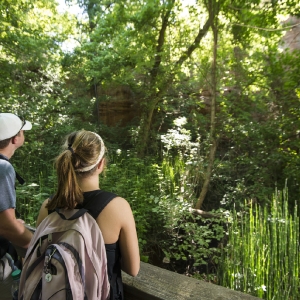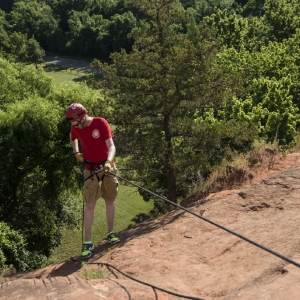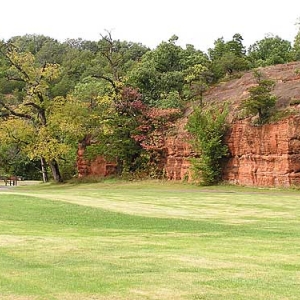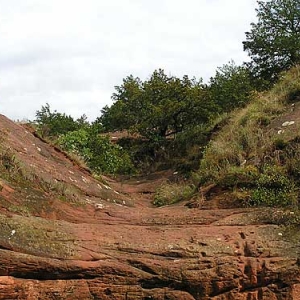 Activities
Pricing
Day-use visitors: Free
Tent sites: $14 per tent per night
RV sites with water & electric: $22
RV sites with water, electric & sewer: $25
Pool admission:
Children (2-12): $2.50
Adults (13-61): $4
Senior citizen & disabled: $2
The senior discount is currently $2 off the daily published rate for designated standard RV and tent campsites. Utility fees are not discounted.
Total disability discount is currently 50% of the base rate for designated standard RV and tent campsites. Utility and premium campsite fees are not discounted.
For more information on senior and disabled discounts, please click 'Senior Citizen & Physically Challenged Visitor Opportunities' under the Maps & Resources tab located above.
While every effort has been made to ensure the accuracy of the pricing listed above, prices are subject to change without notice.
Amenities