MercyMe Itinerary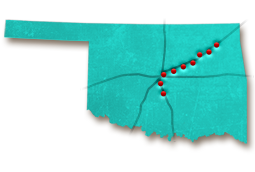 Photo Gallery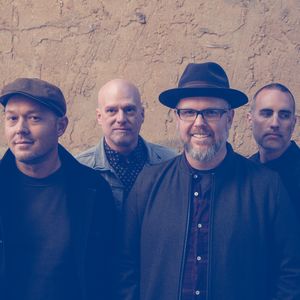 Discography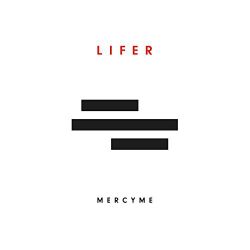 ---
{{ data.name }} Edition
---
MercyMe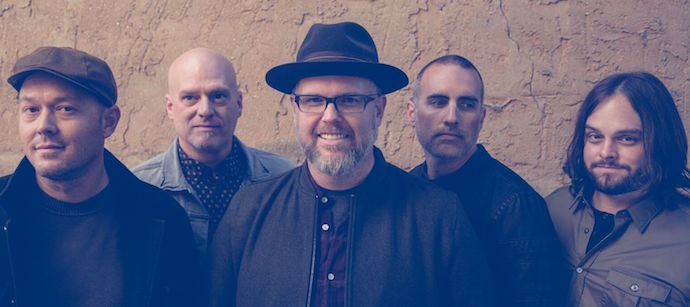 Formed: 1994
Chances are, you've heard the megahit "I Can Only Imagine" that jumped from contemporary Christian music charts to mainstream radio, but would you believe that the amazing song heard around the world was created while the band lived in an abandoned daycare in Oklahoma City?
The tale of MercyMe began many years before the song was first released independently in 1999. In fact, lead singer Bart Milliard's journey into the music industry dates back to his junior year of high school in Greenville, Texas, when a football injury took him out of the game forever.
"My dad and my older brother were both football players. So naturally, that's what I wanted to do as well. But I broke both my ankles in a high school football game and that ended my career," Bart said. To fulfill his graduation requirements, Bart hesitantly enrolled in the only open elective - choir. Soon, the young football star realized he could sing.
Another tragic twist of fate came during Bart's freshman year at Florida Southern College, where he was studying with the hopes of becoming a pastor, when he lost his father to cancer. Looking for a fresh start, Milliard joined a youth praise band where he met Oklahoma native Jim Bryson, a keyboard player. Together they found success on a European tour in 1994 and soon began to feel that they should devote themselves to full time musical ministry.
When the band wasn't playing, they spent time eating at the crew's favorite restaurant - Leo's Barbecue.
Soon, Millard's friend Mike Scheuchzer, a guitar player, joined and the trio moved to Jim's hometown of Oklahoma City where MercyMe was officially founded. The band discovered an old abandoned daycare center that they converted to a makeshift studio/living area. It was also during this time that Bart Millard wrote the lyrics to "I Can Only Imagine," a phrase that he would write when he was thinking about his father's experience in Heaven.
When the band wasn't playing, they spent time visiting the Oklahoma City National Memorial, hanging out around Norman's Campus Corner, camping at Beavers Bend State Park and eating at the crew's favorite restaurant - Leo's Barbecue.
Within a year, MercyMe attracted the attention of local promoters. Soon they were asked to open for Christian rock band Audio Adrenaline where they met the band's manager Scott Brickell. With Brickell's encouragement, the band moved to Nashville and later to Texas where they began playing up to 200 concert dates a year.
With the growing number of concerts also came two additional band members, drummer Robby Shaffer and bass player Nathan Cochran. Robby was introduced to the band by his friend, Oklahoma native Trent Austin, who was the drummer on MercyMe's first two independent albums. When the band needed a new bassist, Robby introduced them to his (now) brother-in-law Nathan.
From 1995 through 2000, MercyMe churned out six albums: Pleased to Meet You, Traces of Rain, Traces of Rain Volume II, The Need, The Worship Project and Look. Although they found plenty of success as an independent act, the band decided to seek a major label so they could focus solely on the music.
"We were literally fulfilling all the roles an artist usually hires out: management, booking, marketing," Bart said. "We finally realized that we had played for nearly 200,000 people during 1999 and were selling albums at the same pace as many nationally known artists. Administratively, we were in over our heads to the point where we couldn't have CDs printed as fast as we were selling them. We knew we needed help in fulfilling what God had called MercyMe to do."
In 2001, MercyMe signed to INO Records and released their first major label studio album, Almost There. Of the album's 11 songs, only four - including "I Can Only Imagine" - had been previously released on an independent album. The rest of the songs, including the album's lead single "Bless Me Indeed (Jabez's Song)" were newly recorded.
After gaining significant airplay on Christian music stations, "I Can Only Imagine" crossed into mainstream radio beginning in late 2003. Among the songs accolades, it charted on the Adult Contemporary, Top 40 and Hot 100 charts. In addition, it took home the Dove Award for 'Pop/Contemporary Recorded Song of the Year' and 'Song of the Year' in 2002. It is also the first Christian music song that has been RIAA certified 2x Platinum.
The inspiring story behind the song was even adapted into a feature film starring J. Michael Finley, Dennis Quaid, Cloris Leachman and Trace Adkins. The movie, which shares a name with the song, debuted on March 16, 2018. Moviegoers will spot plenty of Oklahoma locations including the Centennial Rodeo Opry, OKC Farmers Public Market and Castle Row Studios in Del City.
Although the lineup has changed a bit with the addition of guitarist Barry Graul in 2003 and the departure of Jim Bryson in 2014, the band is still going strong and has a total of six independent albums and nine studio albums under their belt. In addition to "I Can Only Imagine," the band has even more chart-topping singles like "Word of God Speak," "In the Blink of an Eye" and "Homesick."
Of the band's success, Bart says "there's really no place I'd rather be than what I'm doing right now. It's been an amazing journey, and instead of asking, 'Why am I part of this?,' I am really grateful that I can be part of it."