Rhythm and Routes Oklahoma Music Trail
Home of Dust Bowl Balladeer Woody Guthrie, Oklahoma is packed with folk music heritage. Travel this folk music route to experience the history of the genre in Oklahoma. Discover highlights of Woody Guthrie's time in the Sooner State and find out more about his influence on folk music at an interactive museum built in his honor. Keep traveling to learn the importance of the banjo to the American folk form at a museum dedicated to the instrument and catch some folk revival shows at quirky dive bars along the way.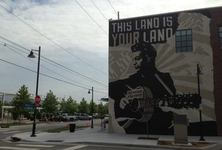 102 E Brady St
Tulsa, OK
Stop 1: Woody Guthrie Center
Dedicated to one of folk music's biggest icons, the Woody Guthrie Center in Tulsa is all about Oklahoma's "Dust Bowl Balladeer." While there, see memorabilia from Woody Guthrie's life including his instruments, photos and handwritten lyrics, all in an interactive atmosphere.
Show on Map
Show Directions to Next Stop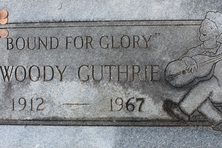 N of Town on Woody Guthrie Blvd
Okemah, OK
Stop 2: Highland Cemetery
The Guthrie family plot is located in Highland Cemetery with a memorial marker for Woody. To get to the family plot, drive through the main gate of the cemetery and turn right on the unpaved road that is parallel to the main road. Turn left on the next unpaved road lined with trees. The family plot is at the base of the fifth tree on the left side of the road.
Show on Map
Show Directions to Next Stop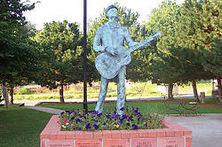 Broadway between 4th & 3rd St
Okemah, OK
Stop 3: Woody Guthrie Statue & Murals
This park in Okemah was created as a loving tribute to a folk music legend. The Woody Guthrie statue was created by Creek Indian sculptor Dan Brook in honor of the first Woody Guthrie Folk Festival. This beautiful bronze statue features the famous folk singer with his guitar along with the phrase, "This machine kills fascists." The surrounding park also includes two colorful murals on nearby buildings, as well as a plaque designating the area as a literary landmark.
Show on Map
Show Directions to Next Stop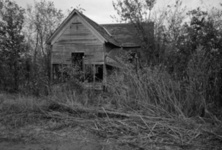 1st St & Birch St
Okemah, OK
Stop 4: Boyhood Homesite, London House
The London House is where Woody Guthrie spent his childhood years growing up in Okemah. Make a stop at where this two-story, six-room house once stood to see a unique tree carved as a memorial to Woody's legacy. Many folk music fans make pilgrimages here to see where Woody grew up.
Show on Map
Show Directions to Next Stop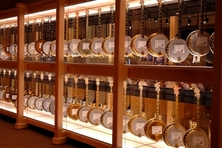 9 E Sheridan Ave
Oklahoma City, OK
Stop 5: American Banjo Museum
The American Banjo Museum in Oklahoma City discusses the importance of the banjo throughout the decades. The banjo has been used in a variety of musical genres for its versatility and unique sound, and it holds a special place in the history of American folk music.
Show on Map
Show Directions to Next Stop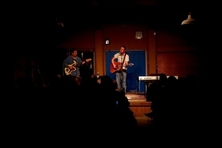 2805 N McKinley Ave
Oklahoma City, OK
Stop 6: The Blue Door
The Blue Door in Oklahoma City has hosted some of the biggest names in contemporary folk music. Known as the city's premier "listening room," the Blue Door provides an intimate experience at every show, which pairs well with the soulful lyrics of American folk music.
Show on Map
Show Directions to Next Stop