Rhythm and Routes Oklahoma Music Trail
From his birthplace in the rough and tumble area known as "the breaks" of western Oklahoma to a burger and juke joint where a young Sheb and his band would have entertained a Saturday night crowd, take a stroll in the bootprints left by Erick native Sheb Wooley ®. After savoring a big ole burger in a classic beer joint, take a cruise along Sheb Wooley Avenue then head to Tulsa to catch a show at the home of Sheb's boyhood hero, Bob Wills. While navigating this trip, if you squint just right, you might just see the dust blown Oklahoma that shaped and inspired the young cowboy who later penned, "Purple People Eater."
Sheb Wooley ® is a registered trademark of Linda Dotson-Wooley


Erick , OK
Stop 1: Sandy Sanders Wildlife Management Area
Also known as "The Breaks," much of the modern Sandy Sanders Wildlife Management Area just south of Erick was part of the ranch where Sheb was born and spent most of his childhood.
Show on Map
Show Directions to Next Stop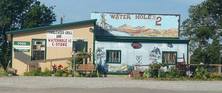 Old Highway Route 66
Texola , OK
Stop 2: Tumbleweed Grill & Country Store
This self-proclaimed oldest working cafe on Rt. 66 is housed in a former 1930s beer joint. In addition to being on the radio, Sheb and his first band would have no doubt played many a raucous Saturday night at watering holes just like this one. While here, be sure and order up one of the house made burgers. Food was scarce in the Wooley household and a young Sheb vividly recalled once ordering a big ole hamburger at a place like The Tumbleweed and telling his father, "Daddy, I look like a big old tumblebug eating this hamburger!"
Show on Map
Show Directions to Next Stop

Sheb Wooley Ave
Erick, OK
Stop 3: Sheb Wooley Avenue
The town of Erick is proud of their cowboy crooner and star of the silver screen, honoring him with his very own street.


Show on Map
Show Directions to Next Stop

423 N Main
Tulsa , OK
Stop 4: Cain's Ballroom
As a young boy, Sheb would listen to Bob Wills on the radio and dream about all the cattle he was going to buy once he made it big as a country singer. Round out your Sheb Wooley trip with a visit to the place where Bob & the Texas Playboys broadcasted a daily radio show.
Show on Map
Show Directions to Next Stop