Robbers Cave State Park
Robbers Cave State Park
Belle Starr View Lodge
---
In the scenic, hilly woodlands of the Sans Bois Mountains of southeast Oklahoma, Robbers Cave State Park is a favorite of rappellers, equestrians, hikers and outdoor lovers. This park is named for the famous outlaw cave hidden in the formation of 300 to 1,500-ft sandstone hills and cliffs. The park and adjoining wildlife management area offer acres of discovery and enjoyment including seasonal trout fishing and hunting, miles of hiking and equestrian trails, rugged cliffs for climbing and stunning fall foliage viewing.
Once a former hideout for outlaws Jesse James and Belle Starr, Robbers Cave State Park is an 8,246-acre park with 189 combined lake acres with Lake Carlton, Lake Wayne Wallace and Coon Creek. All lakes in the park are day-use only, with a trolling speed of 6 mph maximum.
Campground facilities at Robbers Cave State Park include RV sites with full hookups; RV sites with water and electric hookups, and primitive camping areas along secluded trails. Equestrian campsites are also available. Online reservations must be made for all tent and RV sites.
Other overnight accommodations include a lodge, cabins, a lake hut, yurts and two group camp facilities. Each of the 20 rooms at the Belle Starr View Lodge commands an impressive view of Coon Creek Lake and the forested valley below. All rooms are non-smoking and feature two double beds, a coffee maker, microwave, mini-fridge and satellite television. Rooms at the lodge can accommodate up to four guests. Pets are not permitted in lodge rooms.
A total of 26 non-smoking cabins are available with scenic views of Robbers Cave State Park. Each cabin is equipped with a kitchen, central heat and air, fireplace, shower and satellite television. Pet-friendly cabins are available with a daily pet fee and must be requested at reservation.
Choose from one-bedroom duplex cabins that sleep four guests, one-bedroom cabins that also sleep four guests, two-bedroom cabins that sleep six guests and two-bedroom cabins with decks that sleep up to six guests. If you're looking for something romantic, "honeymoon" cabins are also available. Near the main park entrance, the lake hut comes equipped with a queen-sized bed and a sleeper sofa. It also has a mini-fridge, microwave, coffee maker and a table with four chairs. There is no television or shower facility, but the lake hut does have a toilet and sink. It is pet-friendly.
Yurt guests enjoy a queen bed and sofa sleeper within the circular structure. Amenities include a mini-fridge, microwave, heat and air window unit, ceiling fan and a deck overlooking Lake Carlton. One yurt is handicap accessible, and the nearest restroom/shower is a couple of hundred yards away.
With accommodations for up to 274 people, Group Camp 1 features 12 cabins, while Group Camp 2 features seven bunkhouses that can accommodate 250 people. Group Camp 1 is open seasonally from March through November and Group Camp 2 is open year-round.
Bring your own ATV or side-by-side and explore Robbers Cave State Park's 250-acre ATV riding area, which is open from 8am until sunset each day. The park also has an amphitheater, five group picnic shelters and two indoor community rooms. With picnic tables, comfort stations with showers, boat ramps, a swimming beach, a seasonal swimming pool with bathhouse, playgrounds, it's easy to have a good time at the park. From miniature golf, paddleboat rentals and golf cart rentals, to a small grocery store and a nature center with naturalist programs and exhibits, the park has something for everyone.
Robbers Cave State Park is a perfect family getaway with an abundance of outdoor fun to keep the kids entertained. Take advantage of the park's steep cliffs while learning the art of rappelling, or venture off into the adjacent wildlife management area, featuring 3,800 acres of forested hunting ground.
***NOTICE*** Restrooms behind the pool and on the west end of the Nature Center will remain closed for construction. Group Camp 2 is open year round, but group Camp 1 will be closed for renovation.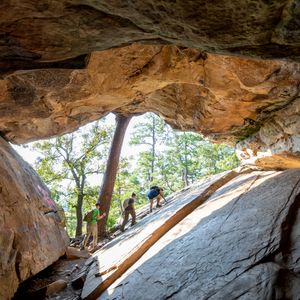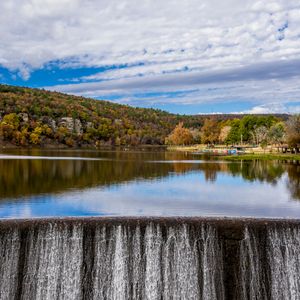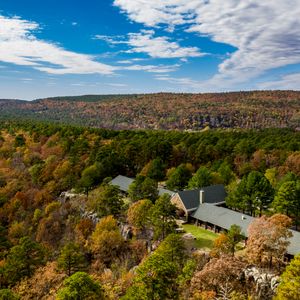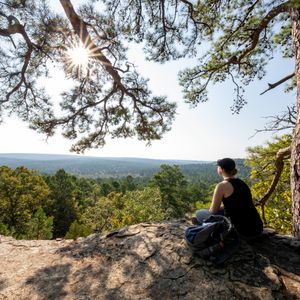 Activities
Canoeing/Rafting/Kayaking
Soundscapes
Pricing
Click for current pricing of
tent and RV campsites
and
cabin and lodge rooms
.
Amenities