Rhythm and Routes Oklahoma Music Trail
Since rock and roll took the country by storm in the 1950s, Oklahoma has been a hot spot for the genre. The Sooner State watched the golden age of rock give way to classic rock and now sets a vibrant scene for popular subgenres including Southern rock and pop rock. Oklahoma offers endless ways to enjoy rock music: settle into an intimate lounge space to hear local rockers, catch a show at a historic theater that regularly books headlining rockers, or live like a rock star at a world-class, rock-'n-roll themed hotel. From one-of-a-kind outdoor stages bringing in top names to small bars where Oklahoma-based rockers won over their first fans, there's no better place to take in the genre than on this thrilling trip through the state.
777 W Cherokee St
Catoosa, OK
Stop 1: Hard Rock Hotel & Casino
Live like a rock star and stay at the Hard Rock Hotel & Casino. Filled with memorabilia from rock stars throughout the decades, this hotel features top-notch amenities, restaurants, a nightclub, casino and much more. Book the hotel's Rock Star Suite for the ultimate experience.
Show on Map
Show Directions to Next Stop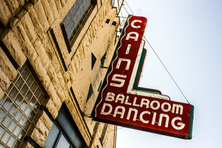 423 N Main St
Tulsa, OK
Stop 2: Cain's Ballroom
Cain's Ballroom has hosted some of the biggest names in rock music since it opened as a concert venue in the 1970s. Headlining acts such as Iggy Pop, The Police, Joey Ramone, Robert Plant and the Foo Fighters have all graced the stage at Cain's. Sid Vicious allegedly punched a hole in the wall at Cain's Ballroom when The Sex Pistols played there in 1978 – young rockers still place their fists in this hole as homage to the Pistols.
Show on Map
Show Directions to Next Stop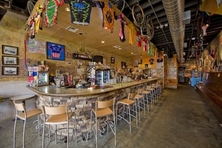 409 N Main St
Tulsa, OK
Stop 3: Soundpony Lounge
One of Tulsa's best nightlife spots and live music venues, the Soundpony opened in 2006 and has since welcomed a variety of local rock, indie and punk bands. Members of the Black Keys and Yo La Tengo have also been known to hang out here.
Show on Map
Show Directions to Next Stop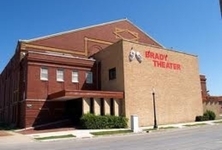 105 W Brady St
Tulsa, OK
Stop 4: The Brady Theater
Some of the most well-known names in rock have entertained Oklahomans at the historic Brady Theater. Queens of the Stone Age, Chevelle, Alice in Chains, Thirty Seconds to Mars and even Oklahoma's own Hanson have all performed at this venue in downtown Tulsa.
Show on Map
Show Directions to Next Stop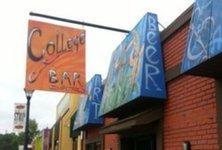 319 S Washington St
Stillwater, OK
Stop 5: College Bar
Besides being one of the most recognizable establishments on "The Strip" in Stillwater, lead singer of the All-American Rejects Tyson Ritter and his band members remember performing here before hitting it big when the College Bar was Mike's Bar. The College Bar still hosts live music from local musicians.
Show on Map
Show Directions to Next Stop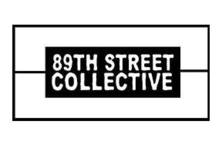 8911 N Western Ave
Oklahoma City, OK
Stop 6: 89th Street Collective
A venue for up-and-coming local bands, 89th Street Collective once booked the All-American Rejects when they were still trying to make a name for themselves on the local club scene. They even held their first album release show at 89th Street Collective when it was known as the Green Door.
Show on Map
Show Directions to Next Stop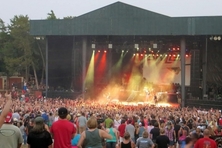 2101 NE 50th St
Oklahoma City, OK
Stop 7: The Zoo Amphitheatre
Countless rock stars have entertained rock fans at the Zoo Amphitheater in Oklahoma City over the years. ZZ Top, Judas Priest, Foreigner, Styx, the Eagles, Metallica, Aerosmith and more have made the Zoo Amp one of Oklahoma City's premier concert venues. The Flaming Lips even filmed a DVD and held the "Biggest Costume Party in the Midwest" for fans here.
Show on Map
Show Directions to Next Stop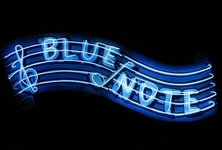 2408 N Robinson Ave
Oklahoma City, OK
Stop 8: The Blue Note
The Flaming Lips famously played their first show at the Blue Note in Oklahoma City. Known for their neon sign that was erected in 1961, the Blue Note offers an extensive beer selection, full bar and an awesome live music stage.
Show on Map
Show Directions to Next Stop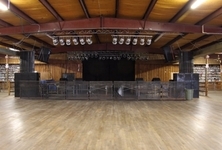 8001 S Eastern Ave
Oklahoma City, OK
Stop 9: Diamond Ballroom
Indie rock, hard metal, alternative bands and punk rock are all welcome at the Diamond Ballroom. Limp Bizkit, the Deftones, Vampire Weekend and Third Eye Blind have all walked through the door of this mid-sized venue to perform for eager fans.
Show on Map
Show Directions to Next Stop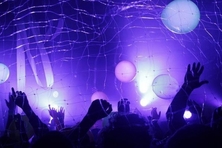 113 N Crawford Ave
Norman, OK
Stop 10: The Opolis
Norman's well-known "micro venue" brings the best in indie rock to Oklahoma. Catch national touring acts at this locally owned bar that provides every concert with an intimate feel. The Opolis is also an official venue for Norman Music Festival each spring.
Show on Map
Show Directions to Next Stop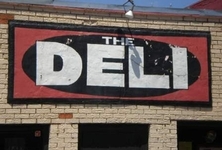 309 White St
Norman, OK
Stop 11: The Deli
The best artists in the Oklahoma music scene book their shows at the Deli. Many Oklahoma musicians including the Flaming Lips got their start playing at this dive bar located near the University of Oklahoma's Campus Corner in Norman.
Show on Map
Show Directions to Next Stop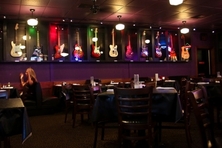 2646 W Broadway St
Ardmore, OK
Stop 12: Two Frogs Grill
Known for its delicious food and rock and roll décor, the Two Frogs Grill in Ardmore has earned its place in the history of Oklahoma rock. While there, be sure to check out the Guitar Room filled with instruments played by some of rock's biggest legends and see the stage where Bret Michaels and Vince Neil once played.
Show on Map
Show Directions to Next Stop