Great Plains State Park
---
At Great Plains State Park, Oklahoma's diverse terrain is showcased while giving visitors a well-rounded vacation experience. Great Plains State Park is located in southwestern Oklahoma, south of Hobart. Nestled in the shadows of the Wichita Mountains, on the east shore of Tom Steed Lake, the park is extremely appealing for the variety of activities it has to offer.
The rough, rocky terrain of the Wichita Mountain foothills provides miles of mountain biking trails for experts and beginners alike. Hiking trails give visitors a chance to explore the park on foot and take in the scenery at a slower pace. Whether biking or on foot, visitors will have access to over 400 acres of park land. Rock climbing in granite boulder fields is also a favorite activity at Great Plains State Park.
History buffs will enjoy seeing the ruins of the 115-year-old mine that once operated in the area and has been abandoned ever since. The remnants of the 1904 Gold Bells Mill and Mine are located in the northeast area of Great Plains State Park. A small mining town called Wildman was built around the same time in the area, but has completely disappeared without a trace. (Caution: Rattlesnakes are known to inhabit the ruins of Gold Bells mine. Use caution while exploring the area.)
With 31 miles of shoreline, Tom Steed Lake offers endless water sport opportunities. Enjoy a swim area with a beach and easily-accessible boat ramps. Visitors may bring boats to the lake for skiing, as well as for fishing. Fishing is at Tom Steed Lake, where catfish, bass and crappie can all be found.
Tom Steed Lake and Great Plains State Park are both havens for many other types of wildlife. When not on the water or hiking/biking a trail, kids will enjoy the park's playground. If you're looking to enjoy the amenities of camping at Great Plains State Park, but want to venture out on a day trip, the Wichita Mountains Wildlife Refuge is only a few miles away.
Great Plains State Park offers a variety of accommodations. Online reservations must be made for RV and tent campsites. Some RV sites include sewer, water and electricity hookups. Restrooms and showers are provided in the campgrounds and leashed pets are allowed. When it comes to meal time, fire up an outdoor grill at one of the picnic areas, because you just might have fresh fish for dinner.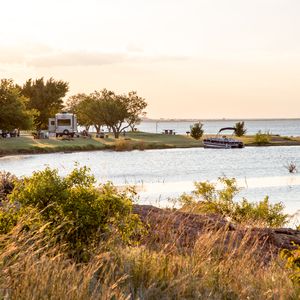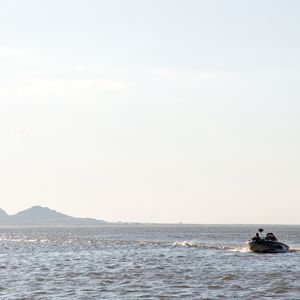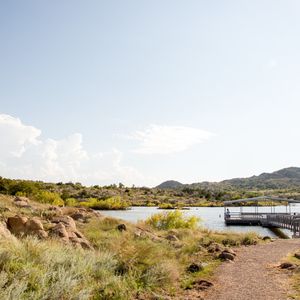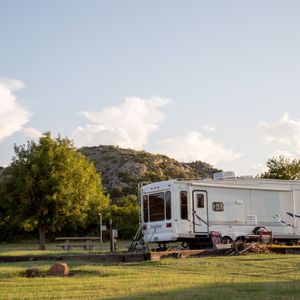 Activities
Pricing
Click for current pricing of
tent and RV campsites
.
Amenities