Bob Wills Itinerary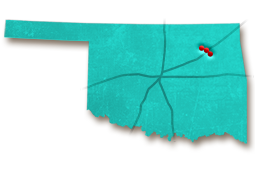 Photo Gallery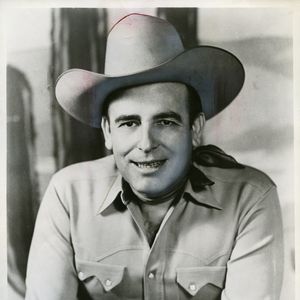 Discography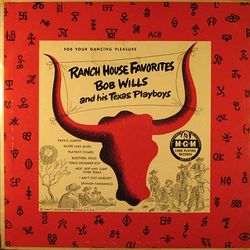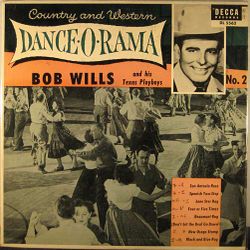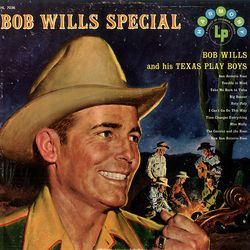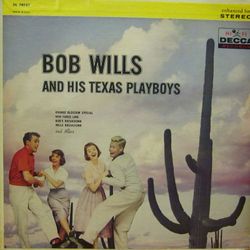 Upcoming Events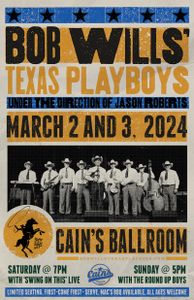 ---
{{ data.name }} Edition
---
Bob Wills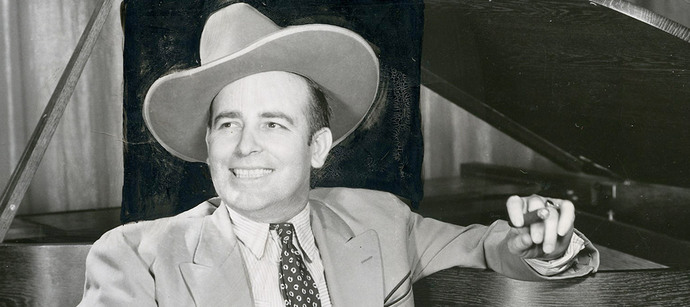 Born: 03-06-1905
Died: 05-13-1975
During the 1930s and 1940s, master fiddler Bob Wills, along with his Texas Playboys, set up shop in Oklahoma and created an innovative variety of jazz-infused country music called Western swing. Wills' blend of traditional hoedown fiddling with big-band swing and blues, took the country by storm. The name Bob Wills became synonymous with the city of Tulsa, Tulsa's historic Cain's Ballroom and the legendary Tulsa radio station, KVOO.
Born in Texas to a musical family on March 6, 1905, Bob Wills learned to play the fiddle and mandolin at a young age. His father and siblings were skilled musicians and Bob, along with his father, often played at local square dances and fiddle contests starting when the youngster was only 10 years old. Bob mastered the frontier fiddle tunes of his father and grandfather and began incorporating the bluesy rhythm, Dixieland jazz and jiving vocal styles he learned from the African American field hands he worked alongside in the Texas cotton fields.
After years of working the cotton fields by day and playing fiddle with the family band at night, the young Wills moved to Fort Worth in 1929 and formed the Light Crust Doughboys with Herman Arnspiger and Milton Brown. The Light Crust Doughboys, sponsored by the manufacturers of Light Crust Flour, began playing a daily radio broadcast in Fort Worth while still putting in a full day's work at the flour company. After getting fired a number of times due to his difficulties with drinking, Bob Wills left the flour company in 1933, formed a new band, the Texas Playboys, and headed to Oklahoma in 1934.
In 1940, Bob Wills and the Texas Playboys had their first big hit with "New San Antonio Rose," a single that reached No. 11 on the Billboard charts and sold over a million records.
Bob Wills and his Texas Playboys landed in Tulsa and eventually set their sights on KVOO, a 25,000 watt radio station. On February 9, 1934 at the hour of midnight, the band played a one-hour trial broadcast on KVOO and were quickly given their own daily show, beginning the band's decade-long run on the station. The Texas Playboys began broadcasting their music live six days a week from Cain's Ballroom in Tulsa.
It was during this time that Bob Wills and the Texas Playboys began perfecting the unique sound that became Western swing. The group added horns and increased their band to a size comparable to the big swing bands of the day. Drums, a piano, steel guitar and even a brass section were added to the line-up of old-time fiddles and guitars, creating a country-jazz fusion Wills soon called Western swing.
The new sound, which connected with the blue-collar workers, farmers and ranchers of the Great Depression era, fused the old-fashioned sounds of a string band with notes of blues, jazz and big band horn ensembles. In addition, Wills loved to punctuate songs with the jive-talking falsetto cries he learned from his boyhood African American friends. His signature "ah-ha" and calling out soloists by name and instrument was his way of saying "job well done" and encouraging them to keep hitting the licks.
During the 1930s, when Bob Wills and the Texas Playboys were gaining fame, they began showcasing their unique sound during live shows at Cain's Ballroom in Tulsa, packing in fans and cementing Tulsa as the home of Western swing. Within a month of booking their daily KVOO show, Bob Wills and the band were playing weekly dances at Cain's and soon took their show on the road.
The Texas Playboys bought a seven-passenger bus and traveled throughout Oklahoma playing gigs around Tulsa, at Whiting Hall in Pawhuska, the Old Plantation Inn in Medicine Park, the American Legion Hall in Ponca City, Jump's Roller Rink in Fairfax, the Big Beaver Dance Hall in Kaw City and many more. The touring group soon began a schedule that stretched over a five-state area, taking Western swing through Oklahoma, Arkansas, Kansas, Missouri and Texas.
In 1940, Bob Wills and the Texas Playboys had their first big hit with "New San Antonio Rose," a single that reached No. 11 on the Billboard charts and sold over a million records. Even though Nashville's established record companies turned their nose up at the "Okie jazz" the band was known for, Bob Wills and the Texas Playboys managed to create an impressive repertoire of more than 3,000 songs.
With more than 50 years in the music business, Wills and his Playboy band members made such legendary recordings as "Take Me Back to Tulsa," "Ida Red," "Steel Guitar Rag," "Smoke on the Water" and "Faded Love." Bob and his Playboy musicians also made their mark playing in Hollywood westerns, co-starring in 19 films including Take Me Back to Oklahoma with Tex Ritter and Saddles and Sagebrush.
When "Life" magazine compiled a list of the 100 Most Important People in Country Music in 1994, Bob Wills was named in the top ten.
The band briefly disbanded during World War II when Wills and several band members enlisted in the U.S. Army. The band regrouped after the war, but with the decline of the big band era and the rise of rock and roll in the 1950s, Bob Wills and the Texas Playboys never regained the popularity they experienced during the 1930s and '40s in Tulsa. However, they continued to perform regularly until Bob suffered a series of heart attacks in the early 1960s.
Bob Wills died in 1975 and was buried at Memorial Park Cemetery in Tulsa. The legend of Bob Wills continues to this day. He was awarded a posthumous Grammy Hall of Fame Award in 1997, while Bob Wills and the Texas Playboys were inducted into the Rock and Roll Hall of Fame as an early influence on rock in 1999. Wills also received honors from the American Society of Composers, Authors, and Publishers in 1957 and the Country Music Hall of Fame in 1968. When Life magazine compiled a list of the 100 Most Important People in Country Music in 1994, Bob Wills was named in the top ten.