Roger Miller Itinerary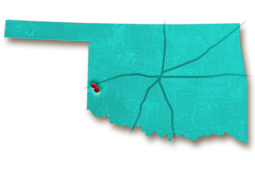 Photo Gallery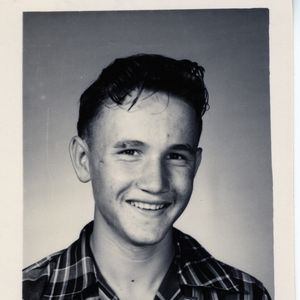 Video Gallery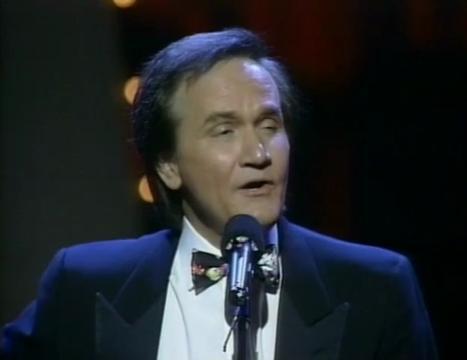 Discography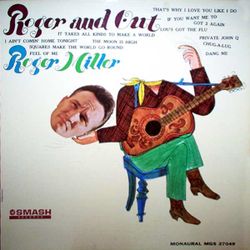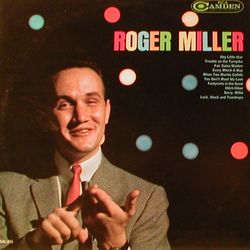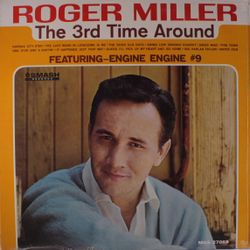 ---
{{ data.name }} Edition
---
Roger Miller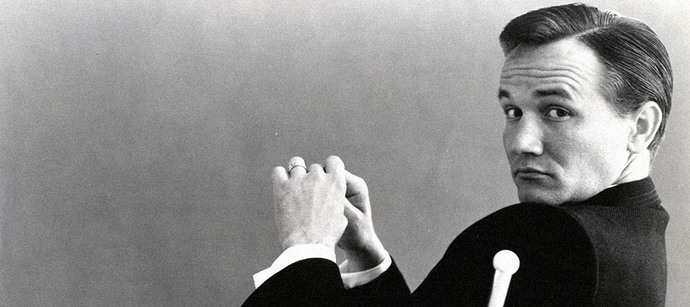 Born: 01-02-1936
Died: 10-25-1992
Erick native Roger Miller took the long, hard and winding road from picking cotton in Oklahoma to stardom as a musician, songwriter, television performer and Broadway actor. Responsible for popular country hits such as "Dang Me," "Chug-a-Lug," and his most famous single, "King of the Road," Roger Miller was known as a musical genius, able to deliver downbeat lyrics in an upbeat manner during the short, witty and infectious tunes that made him a nationwide star.
Roger Dean Miller was born on January 2, 1936 in Fort Worth, Texas. Tragedy struck early for the future crooner when his father, Jean Miller, died at 26 from spinal meningitis when Roger was only a year old. The Great Depression, along with its economic hardships, forced Roger's mother, Laudene Holt Miller, to give up her three boys to different uncles on his father's side – one to Arkansas, one to California and one to Oklahoma. Roger Miller went to live with his aunt and uncle, Armelia and Elmer Miller, on a small farm outside of Erick.
Roger's childhood was difficult, defined by long, lonely days picking cotton and working the land. Unhappy about the separation from his mother and brothers, Roger, a dreamer and not much of a cotton picker, spent his days composing songs in his head. "It's really a good thing that he made it in the music business 'cause he would have starved to death as a farmer," said Sheb Wooley, Erick native, entertainer and Miller's boyhood friend.
"It's a really good thing that he made it in the music business 'cause he would have starved to death as a farmer."
Roger, an insecure loner as a child, also underperformed in school, jokingly remarking later in life that he "even flunked school bus." During those early years near Erick, Roger and Sheb often rode out "fixin' fence, chasing steers and talking about stardom," Wooley once recalled. The two often listened to the Grand Ole Opry on Saturday nights and, during the day, to the Light Crust Doughboys featuring Bob Wills on Fort Worth radio. Wooley, fifteen years older than Miller and a star in his own right with hits such as "The Purple People Eater," taught Roger his first chords on a guitar and bought him his first fiddle.
Sheb had already earned money on the rodeo circuit, played in a country western band and, to Roger, represented the real world of show business. Sheb provided Roger with both instruction and inspiration, and Roger longed to follow in his footsteps.
Miller eventually left Erick during his late teenage years and began bouncing around Oklahoma and Texas, working wherever he could and hanging out in local honk-tonks. He desperately needed a guitar with which to write songs, so he stole a guitar in Texas when he was only 17 and carried it back across the state line into Oklahoma. He turned himself in the next day and the authorities allowed him one of two choices: go to jail or join the U.S. Army. Roger chose the military option and the experience gave him one of his all-time favorite one-liners: "My education was Korea, Clash of '52."
While serving in the military, Miller played fiddle with the Circle A Wranglers, a well-known band started by Private First Class and country music legend Faron Young. He also met the brother of Jethro Burns who arranged an audition at RCA Nashville for him.
After Roger Miller was discharged from the Army, he made his way to Nashville, hoping to audition and land a record contract. His first audition for Chet Atkins did not go well; Atkins kindly suggested that Roger go work on his songs a little more and come back at a later date to try again. While trying to break into the music industry, Miller took a job as a bellhop at the Andrew Jackson Hotel, which was conveniently located in the middle of Nashville's music district. Roger was soon dubbed "The Singing Bellhop," since he would sing for anyone who would listen on their way up and down the elevator.
During this time, Roger met George Jones, Pappy Dailey and Don Pierce, an executive for Mercury Records. Roger signed with Pierce and cut three songs, but the singles went nowhere and led to nothing but a continuation of hotel work and the occasional touring job as a fiddle player with Minnie Pearl and a drummer with Faron Young.
Eventually, Miller signed with Mercury-Starday as a songwriter and ceased performing as musician for a time. He co-authored "Tall, Tall Trees" with George Jones while on a road trip to Texas, and "Happy Child" for Jimmy Dean. After failing to break into the music industry, Roger picked up and moved to Amarillo for a short-lived career as a firefighter. He worked all day and sang in the local clubs at night. It was during this gig that Roger met Ray Price, who invited Roger to join his band the Cherokee Cowboys.
Then, in 1965, Miller released the best-known song of his career, "King of the Road," a single that spent five weeks atop the country charts and peaked at No. 4 on the pop charts.
Roger Miller returned to Nashville and began a successful career as a songwriter. Rex Allen, the famous movie cowboy, recorded Roger's song "Invitation to Blues" in 1958 and the song became a No. 3 hit. The hits kept coming – Ernest Tubb took Miller's "Half a Mind" to No. 8, Faron Young cracked the top ten with "That's the Way I Feel" and finally made it to No. 1 with Roger's "Billy Bayou." Soon, Roger Miller was a much-sought after "hillbilly songwriter" in the late 1950s.
"The songwriters in Nashville would follow him around and pick up his droppings, because everything he said was a potential song," said Buddy Killen, a Grand Ole Opry bassist. "He spoke in songs."
His success led to a dose of television fame when Roger occasionally appeared on The Jimmy Dean Show and The Merv Griffin Show, two of the most highly-watched television programs in the country. These and other television appearances showcased his musical artistry, his captivating personality and an intentionally goofy style that endeared him to millions.
Roger went on to sign a record contract with Smash Records and released "Dang Me," his first hit single for the label, one that charged to No. 1, spent six weeks as a country chart topper and made an appearance at No. 7 on the pop charts. Miller then released two more hits, "Chug-a-Lug" and "Do-Wacka-Do."
Then, in 1965, Miller released the best-known song of his career, "King of the Road," a single that spent five weeks atop the country charts and peaked at No. 4 on the pop charts. Roger won six awards at the Grammy Awards in 1966. Driven by his ultra-smash hit, "King of the Road," Miller's sweep stood as the biggest to that point and still remains the biggest for a country artist. Roger kept repeating this success with hits such as "Engine Engine #9," "One Dyin' and a Buryin'," "Kansas City Star," and "England Swings." In 1974, he also wrote and sang songs for the popular Disney movie, Robin Hood.
Roger felt that the crowning achievement to his career was the music he wrote for Big River, a 1985 Broadway adaptation of Mark Twain's works. Both the play and Miller received critical acclaim, with Big River winning seven Tony Awards, with two of those going to Roger for Best Musical and Outstanding Score. Miller is the only country artist in history to win a Tony Award.
Roger Miller died in 1992 at the age of 56. Hundreds of relatives and friends crowded into the Ryman Auditorium in Nashville to celebrate Miller's life, sharing their stories about the star and listening to his music. Many of the attendees had known Roger since he was "The Singing Bellhop." Roger was inducted into the Nashville Songwriters Hall of Fame in 1973, the Country Music Hall of Fame in 1995, the Oklahoma Music Hall of Fame in 2004 and the Oklahoma Hall of Fame at the Gaylord-Pickens Museum in 2011.