John Fullbright Itinerary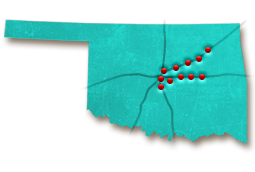 Photo Gallery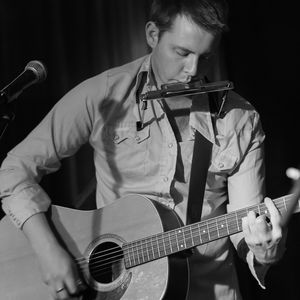 Discography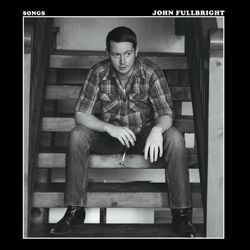 ---
{{ data.name }} Edition
---
John Fullbright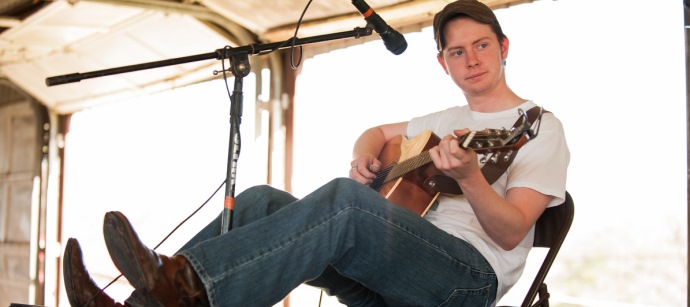 Born: 04-23-1988
On April 23, 1988, Americana songsmith John Fullbright was born on an 80-acre farm in the tiny, eastern Oklahoma town of Bearden. The nearby town of Okemah, birthplace of iconic American folk master Woody Guthrie, would prove to be a lasting influence on the young musician. In his thriving career, Fullbright has won numerous awards, a Grammy nomination and a rapidly growing fan base. Fellow Oklahoman Jimmy Webb has said about him: "I have no doubt that in a very short time John Fullbright will be a household name in American music."
From the age of five, Fullbright showed a great enthusiasm and aptitude for music, being both self-taught on guitar and formally trained on piano as a child. Gaining inspiration from songwriting legends Joni Mitchell, Leonard Cohen, Townes Van Zandt and others, Fullbright was regularly playing covers and even some original material at a local restaurant while still in high school. It wasn't long before he made his official debut at Okemah's annual Woody Guthrie Folk Festival in 2005.
The town of Okemah, birthplace of iconic American folk master Woody Guthrie, would prove to be a lasting influence on the young musician.
After high school, Fullbright enrolled at Southeastern Oklahoma State University in Durant but soon left for Norman to work with noted Red Dirt singer/songwriter Mike McClure. Fullbright contributed to McClure's did7 album and further honed his skills with Oklahoma country rock group, the Turnpike Troubadours. By 2008, Fullbright truly came into his own with his first solo performance at Oklahoma City's premier folk venue The Blue Door.
Live at the Blue Door, Fullbright's first solo album was recorded on February 17, 2009, during his fourth performance at the venue. Quickly gaining a reputation among audiences and critics for his assured songwriting, mature lyrics and soulful delivery, the 24-year-old Fullbright began garnering fans at such prestigious festivals and venues as SXSW, the Kerrville Folk Festival and the WoodyFest main stage. The Blue Door would also remain an important part of Fullbright's musical journey with owner Greg Johnson eventually becoming his manager.
During the next few years of touring and performing, Fullbright's experience, status and songwriting skill continued to grow. Ending up back in Norman, he began working on some demos with Oklahoma producer/engineer Wes Sharon and an accomplished backing band of talented local musicians. These energetic recording sessions produced some inspired versions of future fan favorites like "Losing," "Jericho," and "All the Time in the World." "Man, these demos sound good!" Fullbright would say, with Sharon ultimately insisting, "Well, let's just stop calling them demos."
Fullbright released his debut From the Ground Up on May 8, 2012. Record and mixed in Norman, at Sharon's 115 Recording studio, the album was a poignant and endearing homage to Fullbright's childhood home and small town experience: "Every song on this record was written in that house, and I was kind of written in that house." The lasting importance of personal history, family, religion and tradition would continue to be major themes in Fullbright's work. From the Ground Up was met with enthusiastic reviews highlighting Fullbright's strong performances and confident storytelling with some declaring him a "young master of Americana."
In October 2012, Fullbright performed an acclaimed rendition of Chuck Berry's "Downbound Train" at a Rock and Roll Hall of Fame tribute concert. Later that year, on December 5th, From the Ground Up was nominated for a Grammy Award in the Best Americana Album category alongside artists like Bonnie Raitt, the Avett Brothers and Mumford & Sons. A surprised and gratified Fullbright was also invited to perform his song "Gawd Above" at the award show's online pre-telecast show.
Comparisons to Neil Young, Merle Haggard, Randy Newman, John Prine and others continue to abound, though Fullbright wears such praises lightly.
The praise for Fullbright's work has not only come from audiences and critics but from his fellow songwriters as well. Just a week after his Grammy nomination, Fullbright was honored with the Harold Adamson Lyric Award by the American Society of Composers, Authors and Publishers (ASCAP) in New York City.
In 2013, Fullbright and his band toured all over America and even played a sold-out show in London, England. Later that year, Fullbright took the stage and performed at the 12th annual AMA awards in Nashville, where he was nominated as Emerging Artist of the Year. That same year, Fullbright's song "Gawd Above" was included in the soundtrack for the Oklahoma-set film August: Osage County based on Tracy Letts' play.
On Songs, his sophomore studio release, Fullbright continued his streak of wry, rootsy and deeply-felt songwriting. The album featured a more intimate, stripped-down sound, allowing the well-crafted songs to speak on their own. Like its predecessor, Songs found an enthusiastic popular and critical reaction and just a month after its release, Fullbright was given the Rising Star award at the Oklahoma Music Hall of Fame in Muskogee.
Though his popularity has grown vastly beyond his home state's borders, Fullbright still frequently plays at various Oklahoma venues such as his hometown's WoodyFest, Mitchell Hall at UCO in Edmond, Cain's Ballroom in Tulsa and, of course, his beloved Blue Door. Comparisons to Neil Young, Merle Haggard, Randy Newman, John Prine and others continue to abound, though Fullbright wears such praises lightly,
"Praise is nice, it's flattering. But I don't absorb it, really. I'm not done," Fullbright said, "I've got a million miles to go before I can even shine the shoes of those lofty names."